With the COVID-19 pandemic still affecting the way businesses are run, marketing through social media platforms is more important than ever. This is especially true for smaller firms that don't enjoy the financial and logistical advantages of larger companies. When used to its full potential, Instagram can offer businesses the opportunity to engage with thousands of users, turn these users into followers, and then develop these followers into consumers of the brand.
Hubspot recently summed up the importance of Instagram for marketing in a video titled How to Make an Instagram Marketing Strategy for any Business. "In 2019, your Instagram feed will be just as important as the homepage on a company's website," Pete from Hubspot proudly declared in the video. He is not wrong in this assessment. With more and more consumers spending time online shopping and browsing social media than ever before, the development of this marketing asset is essential to your brand.
In this two-part series, we're going to walk you through how to use Instagram for a brand. This week we'll cover how to set up your account and optimize your profile page. In an upcoming post, we'll dive into the more advanced content types the channel offers, including IGTV and Instagram stories. 
Success on Instagram means maximizing your follower engagement, increasing brand awareness and finding success with calls to action on your page. "Your brand's Instagram profile may be the first impression you make on a consumer," according to Hubspot. Make it count. Here's how to get started.
Set Up a Business Profile
Before you start thinking about hashtags or worrying about the aesthetics of your profile, you need to make sure your account is set up as a business profile. If you already have an individual account that you want to use, you can switch it to a business profile directly from your profile page. Also make sure that your page is set to public and not private. This will maximize who can see your profile and posts.
To switch your account to a business profile, select the menu icon in the top right corner of your profile page. Then select the "Settings" option at the top of the menu.
The images below provide the steps for setting this up, just click on them and scroll through.
Optimize Your Profile Page
Now that your brand's Instagram account is set up correctly, you may be tempted to jump in and get started. There are a few steps you should take to optimize your profile page before you start posting. Because this page will be the first impression your brand makes on many consumers, it is important to ensure every aspect of it is set up to convey your brand message.
Influencer Marketing Hub recommends taking these steps to maximize the reach and value of your profile page.
Select a profile name that accurately represents your brand.
Write an engaging bio to tell your story and showcase your brand to prospective customers.
Add a link to your website in your bio, preferably a shortened URL that looks neat and is trackable.
Promote your branded hashtag in your bio.
Select an appropriate, high-quality profile picture that represents your brand.
Nike does a great job of hitting these bullet points from Hubspot with their Instagram profile. It is simple, straight-forward and instantly recognizable. They keep everything short, sweet, and to the point, which works beautifully for their page.
Chewy is another great example of a well-done Instagram profile page. They are masters of simplicity, just like Nike. All of their branded information is right at the top of the page, including  a clean logo, a clearly displayed link to their website, a branded hashtag, and a short and simple bio. They also have their Instagram handle right at the top of their page and invite followers to engage with them by tagging posts with @Chewy. This is another great way to raise brand awareness while increasing engagement with customers.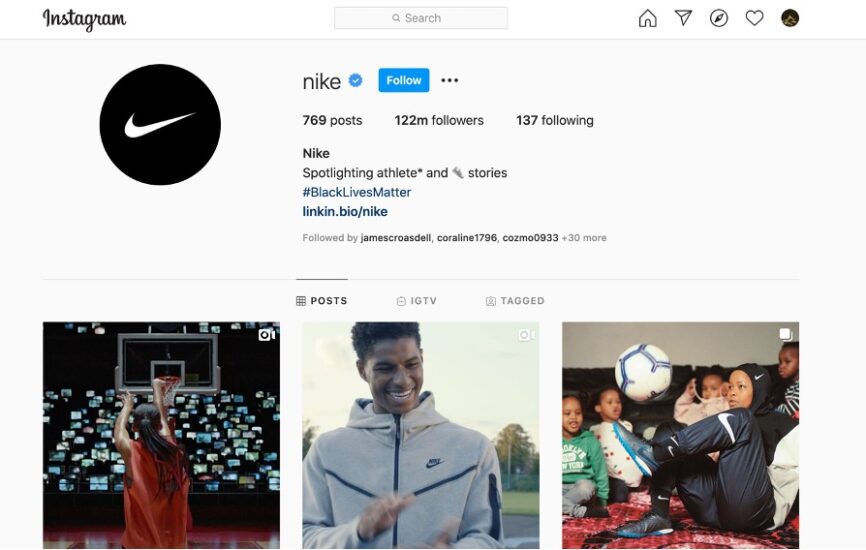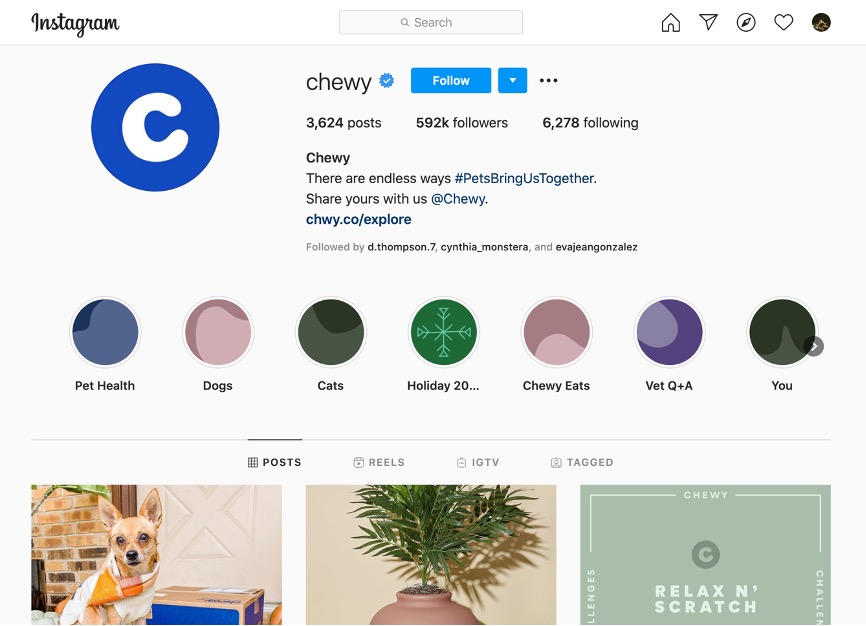 Lastly, we love how Vans has set up its Instagram page with a slightly different approach.  They created an Instagram handle for each of their main product lines and share them in their main bio. This encourages followers to tag the brands in pictures and helps generate engagement and user-generated content. They have added a lot of cross-promotional value by taking this step without adding too much clutter to their profile page. The bio is still short and sweet and has all the critical information.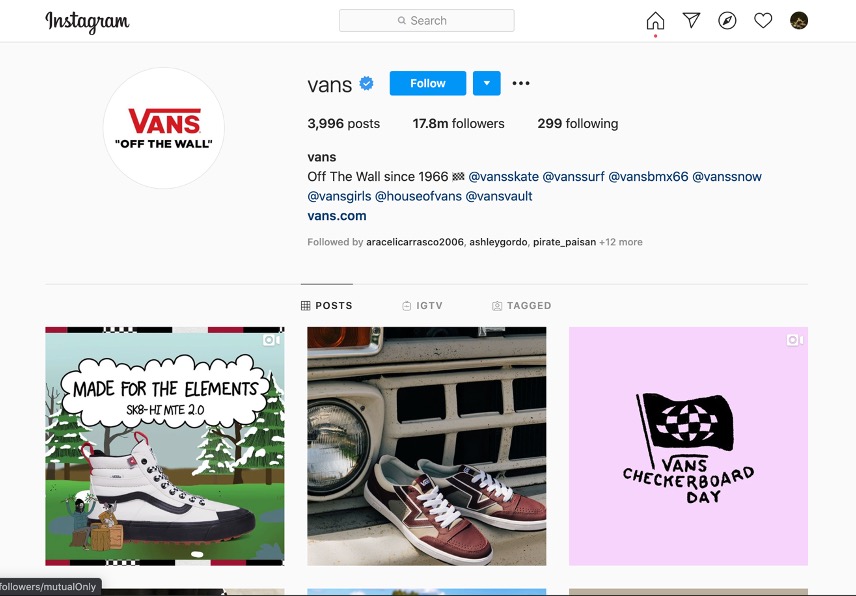 A branded hashtag is a hashtag that's specific to your business. It could be your brand name, a product name, or a brand sentiment. Creating one is easy (just start adding it to your posts) and will help you in a few ways, including increasing the visibility of your content, making it easier to track and quantify your content, and getting your followers involved with your brand.
Below are a few branded hashtags that Mention.com ranked as the best of 2020.
#WantAnR8 by Audi
#NationalFriedChickenDay by KFC
#ShareACoke by Coca-Cola
#LetsDoLunch by Domino's Pizza
#OreoHorrorStorries by Oreo
#worthsaying by L'Oreal Paris
#ShareYourEars by Disney and Make-A-wish
#TweetFromTheSeat by Charmin
Click on the images below to see some examples of these hashtags in posts: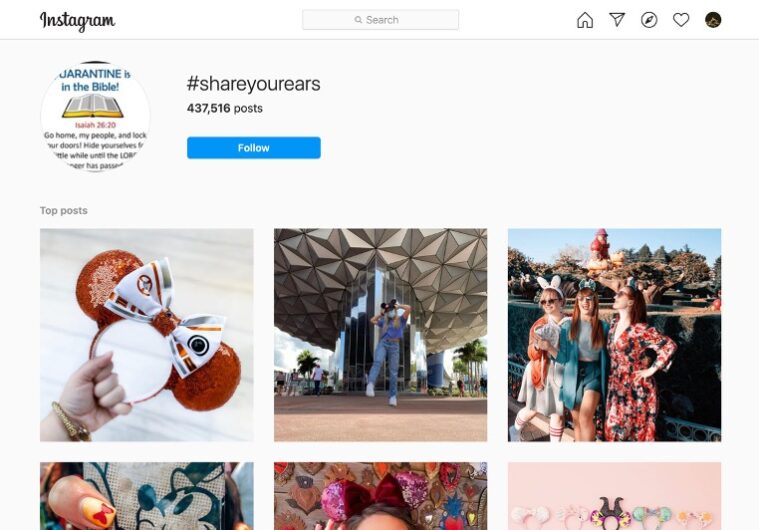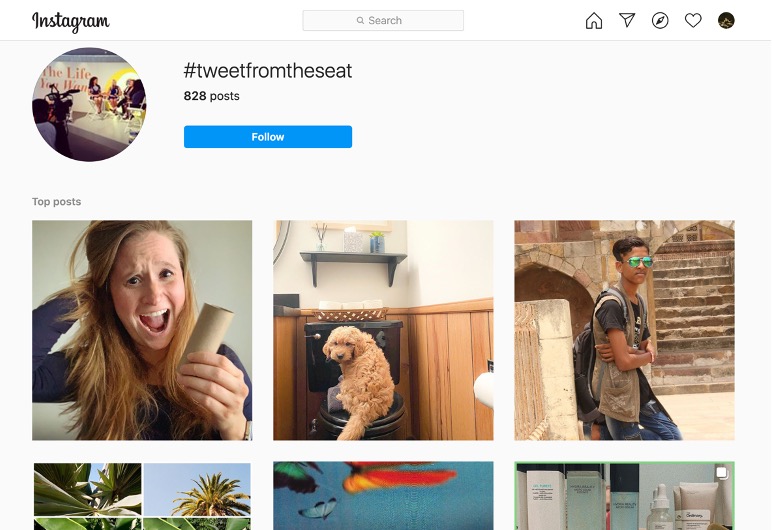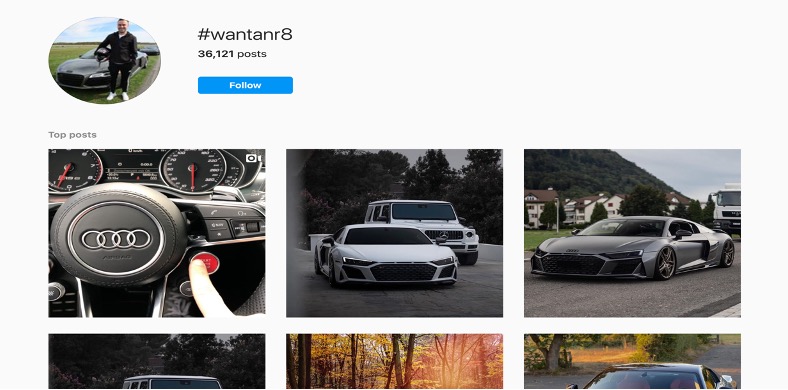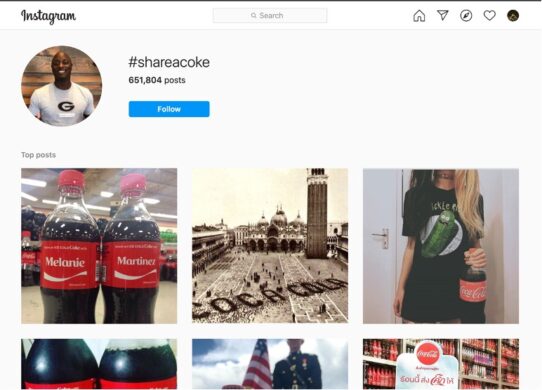 Whatever it is, creating a single, branded hashtag and promoting it on every post will make it easier for your brand to get tagged and mentioned by other users and followers. It can also help your brand get mentioned along with other trending hashtags, which can lead to more visibility on the platform.
Following these steps will help you create an appealing, optimized Instagram profile page that will help convert browsers into buyers. In our next Quick Tips for Instagram post, we'll cover more advanced topics like IGTV and Instagram stories. And if you need help with your social media strategy and content, let's talk. We'd love to help.