How's everyone doing? We hope you're keeping well and maintaining your sanity in our current socially-distant, semi-quarantined reality.For us here at Esparza, it's week nine (!!) of working from home. We've long since worked out the kinks, gotten into a solid routine, and (mostly) stopped studying our teammates' home decor while on web conferences.
Since we're fortunate to be operating at full strength, we're working just as much as ever. But when we're not, we're also not visiting restaurants and breweries, going to movies and concerts, shopping at the mall (online is a whole different story), attending Isotopes and United games, etc. You know, the regular stuff.
So what are we doing instead? We asked our entire crew to share how they've been filling the non-working hours, and unsurprisingly, it runs the gamut from nurturing our creative sides to learning new things, catching up on neglected hobbies and burning up the trails in our beautiful New Mexico backyard. Read on to see what we Esparzans have been up to!
Enjoying the great outdoors
Del: We are blessed to live in a place where the outdoors are magical and mind clearing. I've been taking lots of walks and hiking, and mountain biking with my son as often as I can.
Anne Claire: My husband and I have filled our free time with cooking and all manner of virtual things… movie nights, tabletop games and trail races. There've been a lot of cool virtual races going around; just last weekend a group of our running friends did a 24-hour ultra "together." While we can't be together in person, it's been so helpful and important to still share in the adventures, motivation and encouragement that comes from that support.
Lindsey: We have tried to spend as much time as possible outdoors. And while I'd like to say it's been solely to connect with nature, it also helps keep the house clean and keeps our children from confiscating all of the paper products to make "booster packs" while donning Christmas pajamas. We have also had fun creating foliage faces!

Roberta: Downtime—what's that? About the only thing I do manage to do regularly is walk. And I try to figure out how my daughter and I can take a 25-minute walk together, which records 33 minutes of exercise for her and a mere 13 for me. ????‍♀️
Sha:
Since the quarantine started my wife and I have been on two wheels nearly every weekend. This past weekend we completed our first half-century ride that took us from downtown ABQ to Balloon Fiesta Park, down to the South Valley and back. Between the mountain and road cycling our calves are going to be beyond ready for summer! When I'm not pedaling my way up a mountain, I'm watching
Penn & Teller
,
RuPaul
and
Goodby & Silverstein
on Masterclass.
Connecting with those near and far
Eve: 
Weekends now consist of a lot of house projects that we had been de-prioritizing, walks with the dogs and finding new ways to hang out with friends. This past weekend we attended a virtual birthday party (scavenger hunt and flip up included) and did a 
virtual escape room
 with friends across the country. I've enjoyed getting more creative in how we connect with people while still staying socially distant.
Jamie: While working remotely, I've found the importance of moderation and balance. Carving out time has become absolutely imperative, not only for my emotional health but to support my wife and three kids. Downtime now includes more family meals, backyard basketball, family craft projects like recycling and making paper, raising caterpillars to butterflies, creating a family garden and taking time to enjoy life as it is.
Justin: 
During the week, my girlfriend and I take our dog on a long walk to end the day near 
the Bosque
 or 
Old Town
, since we live right across the street from it. Weekends are for grocery runs and show bingeing sessions. To keep in contact with friends, we've started a weekly Dungeons & Dragons play-through. It's been great fun getting lost in our characters and getting into mischief.
Cheyenne: 
My weekends consist of sitting out on the back porch drinking iced tea or some cider from a local brewery, and either reading a book or playing Animal Crossing on my Nintendo Switch (the perfect quarantine pastime). I've also gotten into 
The Last Kingdom
 on Netflix and enjoy going on walks in the evenings.
Heather: 
As a reader, sometimes you just need a fun book of snackable essays, which is what I've been losing myself in lately. The title of Samantha Irby's latest book, 
Wow, No Thank You
, pretty much sums up how I'm starting to feel about 2020 as a whole. One essay in the series — "A Case For Remaining Indoors" — is particularly on-point for these quarantined days of our lives: "I like to sit at home in mild terror as the world rages outside without me, hoping that no one is going to drop by and expect me to come up with a humorous anecdote or ask me to have an opinion on something."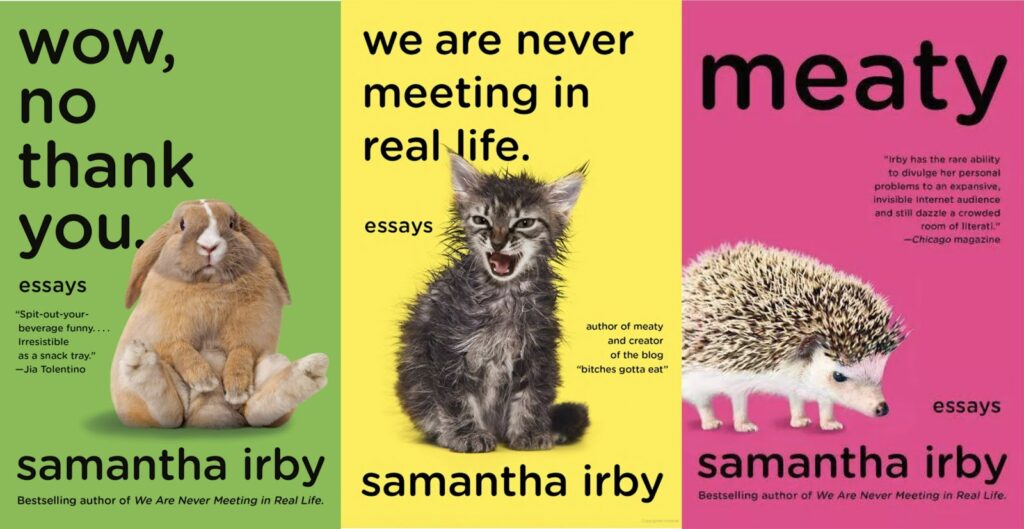 Tonya: Lots of binge-watching TV shows. Lots of homemade meals. Yard work, spring cleaning the house, and spending much needed one-on-one time with my daughter.
Forrest: My quarantine at home is filled with all of the art projects I had been wanting to do: sewing, drawing and designing my own clothes. But of course the obvious activities too: indoor workouts, attempting to be a chef, lots of cleaning and organizing, and I even rearranged my living room. And since we can't go to the breweries, my husband and I bring the breweries to us by picking up a pack of our favorite local beer on Fridays, along with some takeout.
Kiki: Lots of reading. Started a new fitness program. Supporting local restaurants. And a lot of painting.
Staying (mostly) productive
Staci: I've taken advantage of these less-busy weekends to sharpen my DIY skills. New window treatments, sprucing up the backyard, and my biggest accomplishment: giving my mid-90s fireplace a major facelift. (So much sanding and taping and priming and painting and staining…) And with more time for the kitchen, I've been experimenting with a new air fryer, trying recipes I pinned about a billion years ago and even making my own sourdough starter.
At the end of the day — remote, lazy, fun-filled or otherwise — we know we're among the lucky ones. Our jobs don't require us to work 20-hour hospital shifts, restock grocery shelves over and over (seriously, how are people still hoarding TP?), or crank out dozens of to-go orders with only a skeleton crew. So to those on the front lines of this pandemic, those keeping us in groceries and other basic needs, and those watching out for the rest of us, we offer a heartfelt thanks, and look forward to better days for all.
Which creative ways have you found to fill your extra quaran-time? We'd love to know. Give us a shout on any of our social channels, using the hashtag #quarantinelife. We hope to hear from you!