At some point, we have all been a part of a group or organization where group work becomes a group problem. Here at Esparza, we strive for a fun and efficient work community where everyone can be heard. Here are some of the ways that we implement better organizational behavior at Esparza.
Organizational behavior (OB):
First up, what is organizational behavior? This is the academic study of how people interact within groups.
The study of organizational behavior was created for businesses and organizations to run more efficiently. The Contingency Theory states there is no best way to organize a corporation, and this is because of two very important factors.
Differences in people

Differences in situations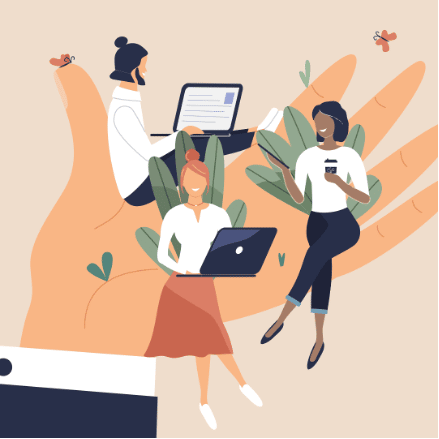 No two workplaces are the same. At Esparza, we lean into what makes us different and consider these as advantages for a better organization. Esparza strives for individualism because the differences in people make for a diverse community.
Now that we know what organizational behavior is, let's get into what it looks like here at Esparza.
Improving Job Performance:
At Esparza, communication is a priority. Multiple meetings are held weekly at every level of the company: production meetings every Monday, which discuss upcoming and current projects; SCRUM meetings every Wednesday and Friday, which cover the day-to-day tasks everyone is working on to get our projects done. We also have regular client meetings at every stage of a project — from pitching creative concepts, to reporting monthly metrics.
Meetings are a great tool when communicating within a company. During one-on-one meetings, team leaders can openly discuss expectations and areas of improvement, but it's also an opportunity to cross-communicate for an improved work experience.
Increasing Job Satisfaction:
When it comes to an ideal workplace, Esparza is in the running. Esparza offers a list of perks and benefits, which include flexibility with work schedule, unlimited PTO, and team building exercises like "Just Because" Happy Hour & Movie Nights. We want our employees to be well rounded, so we even offer monthly paid hours for our team members to volunteer anywhere they desire. Managers and team leaders also solicit feedback as much as possible because they aim to make everyone feel involved in the decision-making process. At the end of the day, we are all in this together.
As an advertising firm, everyone here must remain a student of advertising, meaning that we all continue to learn about the current trends in the constantly evolving industry. We encourage our team members to develop new and innovative practices every day. One of our most important values at Esparza is honesty. We believe that ethics will always outweigh short-term profits.
Authentic leadership starts with the heart. Everyone is encouraged to step up, and we reward initiative. At Esparza, we value empathy. We want to see all parties' perspectives and see that everyone's ideas are heard. We value respect and vulnerability and foster an environment where mistakes can be made. To become a leader, you have the foundation here at Esparza.
In the past, work was seen as something that wasn't supposed to be enjoyable. We worked to live, but as we progress as a society, we understand the importance of doing things that make us happy. We strive to find our passion, and companies worldwide are implementing organizational behavior into their workplaces because they see the importance of providing a healthy work environment, where job satisfaction matters.
Ready for a workplace where you are respected and valued? Take a look at our current job and internship opportunities!