Since 2005, Google Analytics has been the gold standard in understanding website traffic and user behavior. The free tool allows us to understand how visitors interact with a site and make data-driven decisions to optimize website performance. If you have a website presence, you're likely using Google Analytics in some way. And there's a big change coming to the platform in July — one everyone with a website should be aware of and prepared for. 
Effective July 1st, 2023, Google will discontinue data processing for Universal Analytics as it prioritizes the upgraded GA4 platform. To ensure uninterrupted data analysis and insights, it is crucial to transition from Universal Analytics to GA4 before the deadline. Failure to do so will prompt Google to automatically create a GA4 account for you, based on your existing account's settings. Taking proactive measures to migrate to GA4 will guarantee the seamless continuation of data processing and analytics for your business.
What Does this Mean for Marketers?
One of the most significant changes in GA4 revolves around its data structure and collection methodology. Unlike the session-based approach familiar to most marketers, GA4 places emphasis on users and events. This transition in data tracking brings substantial advantages, offering marketers and companies greater flexibility in monitoring and forecasting user behavior. GA4 is poised to deliver valuable insights into user interactions with websites and the effectiveness of different marketing channels. Armed with this information, marketers can optimize website performance and enhance the overall user experience
What Other Features Does GA4 Provide?
Cross-Device Tracking: GA4 allows businesses to track users across multiple platforms and devices, providing a more complete picture of user behavior on websites, mobile apps and offline interactions.

Machine Learning Capabilities: GA4 includes advanced machine learning capabilities, such as predictive metrics and automated insights for businesses.

Streamlined Reporting: GA4 offers a more streamlined reporting interface, making it easier for businesses to access and understand their data.

Enhanced Data Controls: GA4 provides businesses with enhanced data controls, including the ability to delete user data and control how data is collected.

Enhanced privacy controls: With GA4, Google has introduced more privacy-centric features and controls to comply with evolving data privacy regulations, such as data deletion controls and the ability to adjust data retention settings.

Customer lifecycle reporting: GA4 includes features that help businesses understand and analyze the customer journey throughout the entire lifecycle, from acquisition to conversion and retention.

Deeper integration with Google Ads: GA4 offers improved integration with Google Ads, allowing marketers to better analyze and optimize their ad campaigns based on user behavior data.
Login to your Google Analytics Account.

Click Admin. Gear icon, bottom left navigation.

Confirm that your desired account is selected.

Confirm the desired property is selected.

Click GA4 Setup Assistant, the first option in the Property column.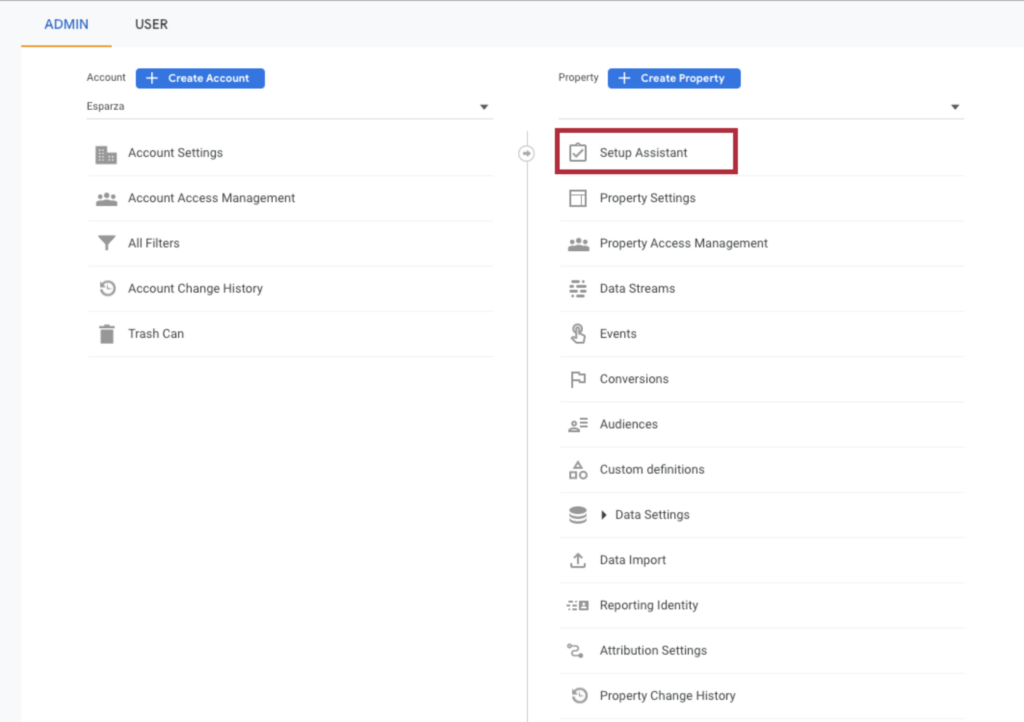 6.  If you see the message: "This is your GA4 property. Your connected Universal Analytics property remains unchanged", click Open connected property.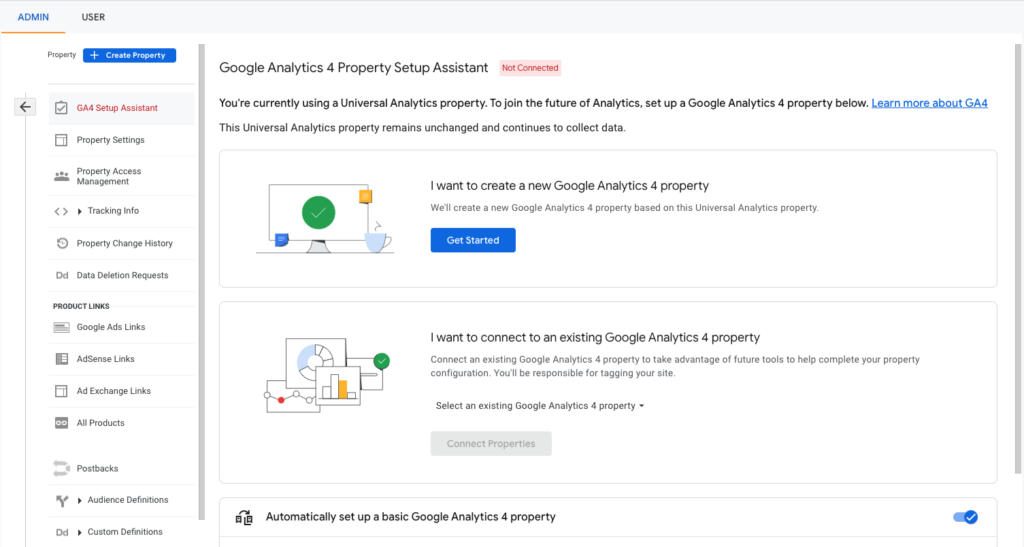 7. Once you're in the GA4 Setup Assistant click the blue "Get Started" button then click "Create and Continue" 
*Check the "Enable data collection using existing analytics" box if applicable for your agency or company*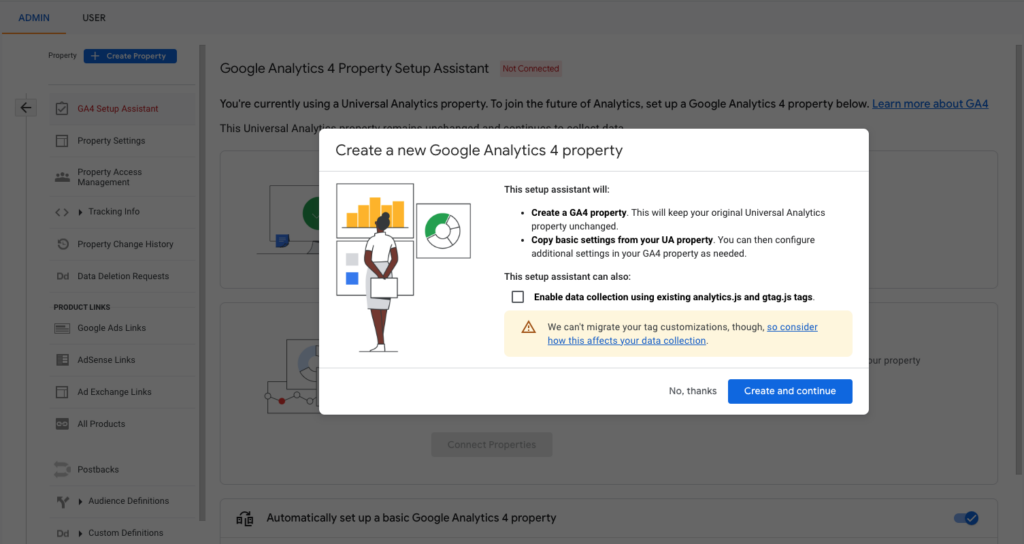 8. Mark all the tasks completed to stop seeing "This property is not fully set up. You can complete the recommended setup checklist in the Setup Assistant."
For each task, click the arrow at the far right.

Select Mark as complete.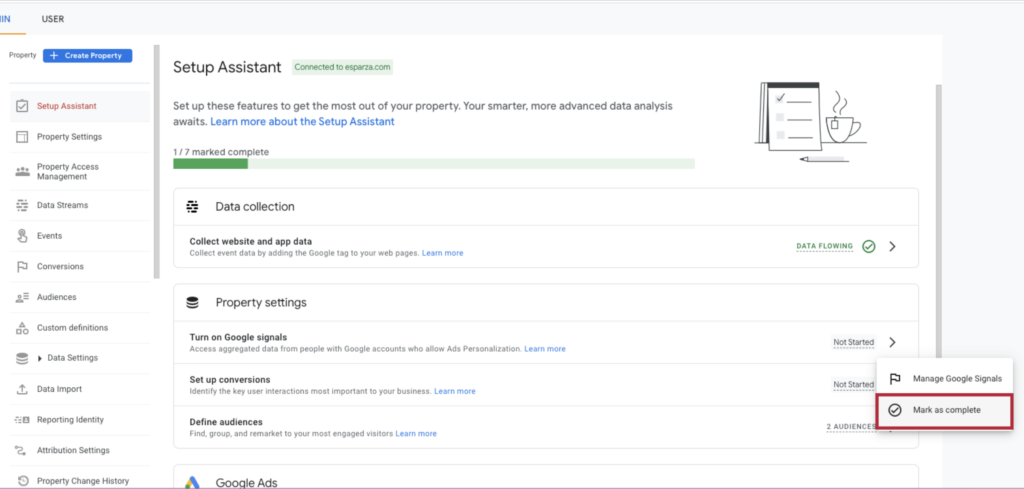 The GA4 setup assistant seamlessly integrates with gtag.js, automating the process. However, if you utilize website builders like WordPress, Wix, or others, you will be required to manually add the Analytics tag to your website.
GA4 is going to be a powerful tool for marketers, empowering us with comprehensive insights into website traffic and individual user journeys. Leveraging this enhanced data, we can make more informed marketing decisions, driving better results. Moreover, GA4 equips marketers with additional information to anticipate user behavior, all while prioritizing user privacy. With dedicated efforts, you can become proficient in GA4, harnessing its capabilities to excel in data-driven marketing.
Want to know more about implementing and using GA4 on your website? Our team would love to chat with you.