Part 1: How to set up a branded channel
The most popular social media channel in the world is also one of the most underused by marketers. We're talking about YouTube.
With 2 billion monthly users, the platform is, essentially, the world's second largest search channel. It reaches more total users than Facebook and more adults than any primetime cable network in the average week.
Having a branded channel for your business can help you stand out from your competitors and capture more of those eyeballs. Read on for quick tips and best practices to get your channel started. We'll cover YouTube's paid advertising in an upcoming post.
Why YouTube Matters for Brands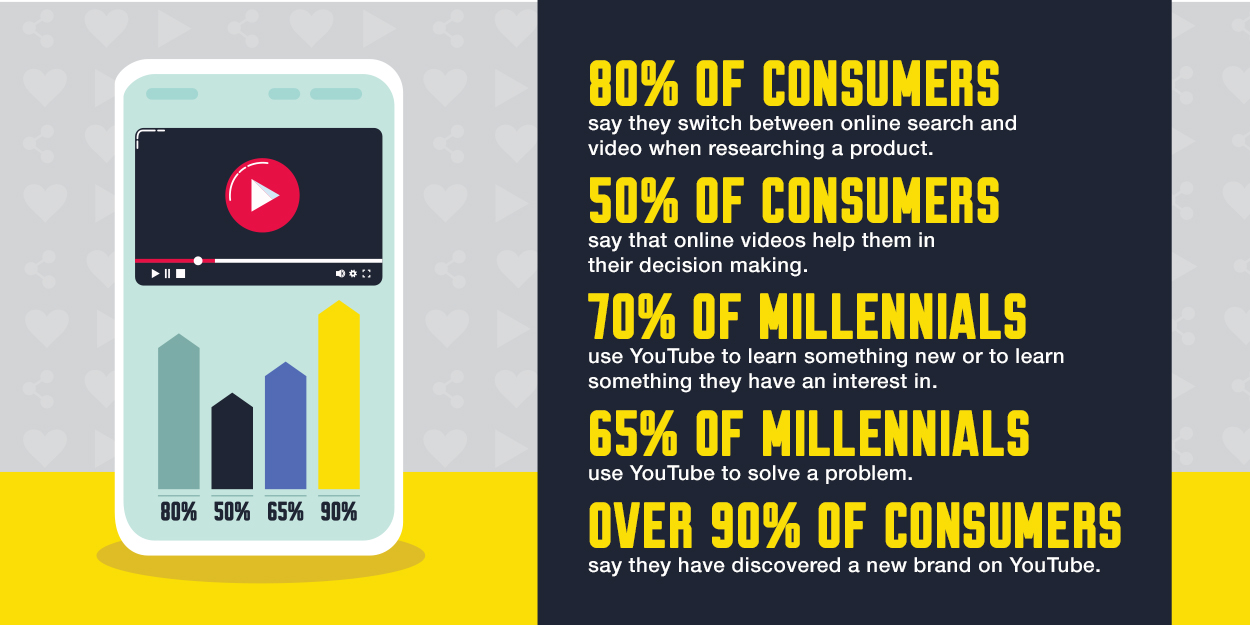 Think like a content creator. The most successful brands on YouTube look at it using a content marketer's eye.
Your Audience's Interests
Who is your audience? Are they Millennial women interested in nutrition? Baby boomer men looking for yard care advice? The first step in a successful YouTube channel is understanding your audience. Document everything you know about your ideal customer's interests.
Your Expertise
List out the topics you have expertise in. What areas can you create informative content in? What areas are you and your employees passionate about? Now look at where this list intersects with your audience interests list. That's your content sweet spot.
Video Types
This can be the hardest part. There are many different types of videos you can make, from simple product overviews to more complex how-to videos. Think about what is realistic for your budget and technical know-how. Browse YouTube to see what other brands are doing. Then brainstorm 2-3 different types of videos you can make. They don't need to be complex. Start where you can, monitor what your audience responds to and adjust as you go.
Frequency
Regular posting is important to build and maintain an audience on any social media channel, including YouTube. Think about what is realistic for your team and budget. Create a calendar of topics and space out your uploads on a weekly, monthly or quarterly basis.

Optimize your channel to be approachable and credible. You want your channel's homepage to be an inviting space people return to again and again.
Branding
Just like your website, your YouTube presence should be a reflection of your brand. There are a few key areas to pay attention to here:
Make sure your homepage image is sized correctly. Nothing screams amateur like a blurry photo that isn't cropped correctly. Your homepage image should be 2560px x 1440px.

Your homepage can be used to rotate videos and channel art to advertise new videos and products. Update your art on a regular basis.

Include a Featured Video on your homepage to introduce viewers to the type of content they can expect from your channel.
Playlists can help organize the content on your channel to allow people to zero in on what they are looking for quickly.

Playlists also encourage viewers to binge-watch all the videos at once. (As marketers, getting your target audience to do this is called winning!)

You may not need to create playlists right away, but as you develop more content, you should consider creating one or multiple.
Thumbnails. These help your videos stand out on a crowded platform. They separate your content from other channels and from ads that pop up on the search engine. They can improve brand image and give consumers an expectation about what they are about to watch.

Cards. A card is a link in a video that sends viewers to a specific external page, such as a website. You can use them to quickly and seamlessly connect your videos to your products.

End Cards. An end card is a link or links that are placed at the last few seconds of a video. You can add multiple links at once and include an option to subscribe to your channel.

Watermarks. Include a small watermark or logo at the bottom right of your videos. This lets people know who created the video and encourages them to subscribe to your channel if they like the content.
Meta Data and SEO
Think about YouTube like a search engine. Just as you optimize your web pages for Google search, you should optimize your videos for YouTube search. Keyword research on the platform can help you get started. Here are the areas you should pay attention to when you upload a new video:
Description. The description of your video will appear when people search for a topic. Make sure to include keywords your audience may be searching and to be as descriptive as possible. Just do us all a favor, and write your description in plain English. Don't cram in so many keywords it reads like a robot wrote it.

Title. Create clear titles for your videos to improve your ranking and inform people about what they will be watching.

Tags. YouTube tags are words you include in your video's description. They let YouTube's algorithm know what your content is about, so it can place it in the right search results. Create tags for each video you upload. Tags should be your most relevant keywords for a piece of content.

Promote your channel. Just like you can't create a website and expect people to find it on their own, you will need to put some time and attention toward promoting your YouTube channel.
Link back to your channel from your website, your email signature and your other social media channels. If you have partnerships with other brands or content creators, encourage them to link to your channel as well.

Post regularly. What this means will be different for everyone. It is important to create a schedule that is realistic for you. Maybe start with one new video a month and build from there. Consistency improves the reputation of your channel from a search standpoint. It also helps encourage viewers to come back to your channel regularly for new content.

YouTube is a community. Engage with it! Comment on videos from other creators, ask questions, answer questions and be a good community member. Also, make sure to respond to all comments on your videos. The internet being the internet, you will receive a few negative ones. Don't take it personally. Just respond as helpfully as you can.
YouTube is the world's second most trafficked website behind Google. As marketers, we go where our audience is. And no matter who your audience is, they are on YouTube! A branded channel can help you connect with, inform and downright delight customers. Be on the look out for Part 2 in this series, which will cover paid advertising opportunities on YouTube, in the coming weeks!