It's the end of the year, and the long-awaited second installment of the Esparza Holiday Cookbook is here! From breakfast treats to puddings and pies, this post is all about sugar. These recipes will have you curling up in your fuzzy blanket for a long nap by the fire. But first, let's bake!
BREAKFAST DELIGHTS
Staci's Breakfast Muffins
Prep – 15 min.
Cook – 20 min.
Yields – 12 healthy or 18 puny muffins
Ingredients:
For muffins:
1 ½ cups plus 2 Tbsp all-purpose flour
2 tsp baking powder
¼ tsp salt
¾ cup sugar
¼ tsp ground nutmeg
½ cup milk
1 large egg, lightly beaten
1/3 cup butter, melted
For topping:
1 tsp ground cinnamon
½ cup sugar
½ tsp vanilla
¼ cup butter, melted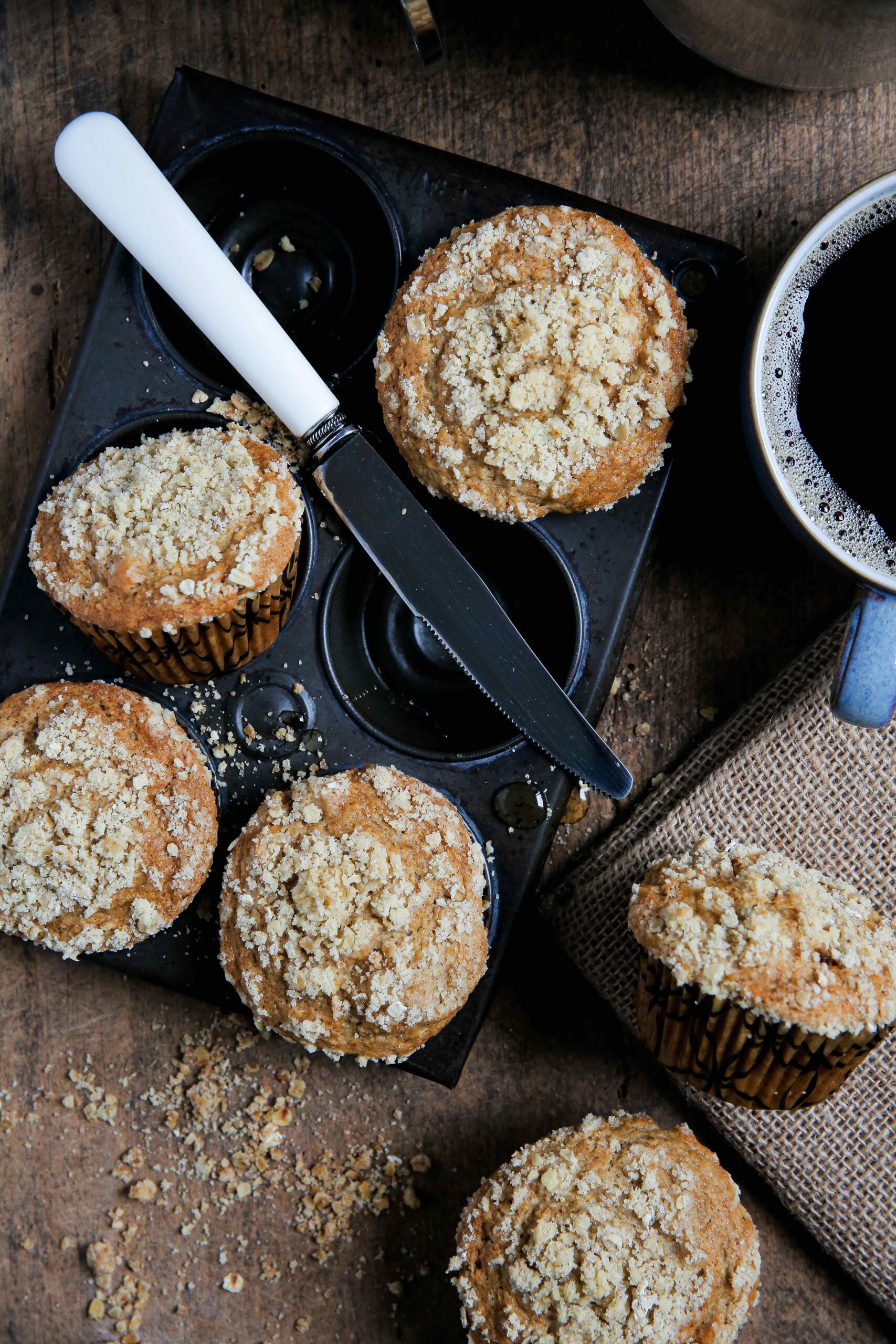 Directions:
Combine first five ingredients in a bowl.
Combine milk, egg and 1/3 cup melted butter in a separate bowl; add to dry ingredients, stirring just until dry ingredients are moistened.
Pour batter into unlined, greased muffing pan cups, filling half full.
Bake at 400 degrees for 20 minutes.
Combine cinnamon, ½ cup sugar and vanilla in small bowl.
Remove muffins from oven and pan; dip muffin tops first in ¼ cup melted butter and then in sugar mixture, coating tops.
Serve warm.
Del's Baked French Toast Casserole with Maple Syrup
Prep – 20 min.
Inactive – 8hr.
Cook – 40 min.
Yield – 6 to 8 servings
Ingredients:
Casserole:
1 loaf French bread (13 to 16 ounces)
8 large eggs
2 cups half-and-half
1 cup milk
2 tablespoons granulated sugar
1 teaspoon vanilla extract
1/4 teaspoon ground cinnamon
1/4 teaspoon ground nutmeg
Dash of salt
Maple Syrup
Praline Topping:
1/2 pound (2 sticks) butter
1 cup packed light brown sugar
1 cup chopped pecans
2 tablespoons light corn syrup
1/2 teaspoon ground cinnamon
1/2 teaspoon ground nutmeg
Directions:
Slice French bread into 20 slices, 1-inch each. (Use any extra bread for garlic toast or bread crumbs).
Arrange slices in a generously buttered 9 by 13-inch flat baking dish in 2 rows, overlapping the slices.
In a large bowl, combine the eggs, half-and-half, milk, sugar, vanilla, cinnamon, nutmeg and salt, and beat with a rotary beater or whisk until blended but not too bubbly.
Pour mixture over the bread slices, making sure all are covered evenly with the milk-egg mixture. Spoon some of the mixture in between the slices. Cover with foil and refrigerate overnight.
The next day, preheat oven to 350 degrees F.
Combine all praline topping ingredients in a blender. Blend until combined, but chunky.
Spread Praline Topping evenly over the bread and bake for 40 minutes, until puffed and lightly golden. Serve with maple syrup.
Cheyenne's Christmas Morning French Toast Casserole
Prep – 10 min.
Cook – 35-40 min.
Serves – 6-8
 Ingredients:
2 cans cinnamon rolls
½ cup butter, melted
1/3 cup sugar
2 eggs
¾ cup heavy whipping cream (half & half works too)
3 tsp cinnamon
¼ tsp nutmeg
2 tsp vanilla extract
½ cup chopped pecans
Icing from cinnamon rolls packages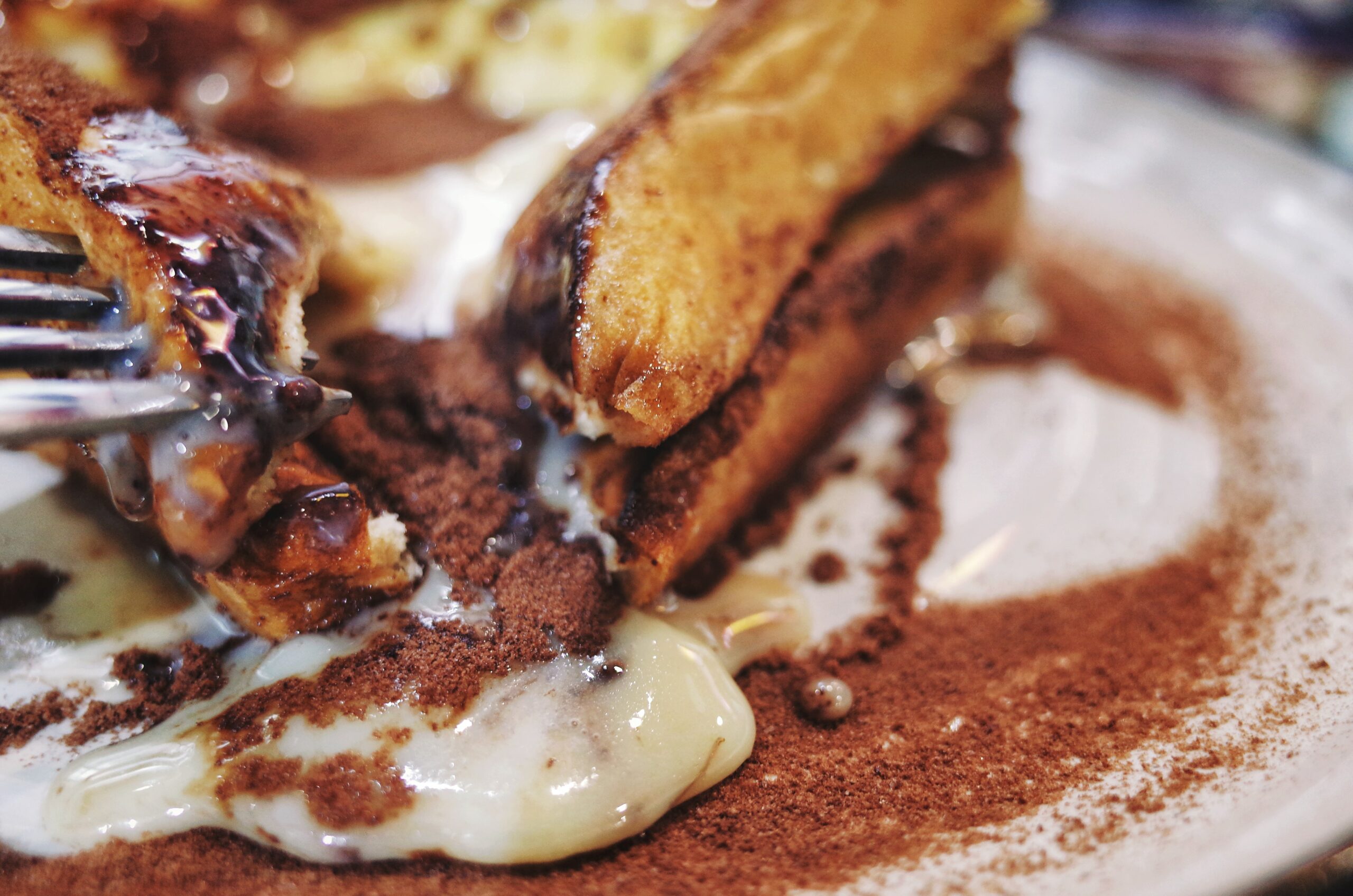 Directions:
In a large glass bowl, melt butter with sugar
Beat in eggs, cream, cinnamon, nutmeg and vanilla
Open canned cinnamon rolls, slice each cinnamon roll into fourths
Place cinnamon roll pieces into the bowl of egg mixture and toss to thoroughly coat
Pour the pieces, coated in egg mixture, into a greased 9×12 casserole dish and spread evenly. Use any leftover egg mixture to coat the casserole
Sprinkle with pecans and bake at 350 degrees on a low rack for 35-40 minutes or until brown
Remove casserole from oven. Warm icing from cinnamon rolls in microwave for 15 seconds and pour evenly over bake
Serve warm!
DESSERTS
Tonya's Pumpkin Rolls
Prep – 15 min.
Cook – 20-25 min.
Serves – 6-8
Ingredients:
3 Eggs
1 cup white sugar
½ teaspoon ground cinnamon
2/3 cup pumpkin puree
¾ cup all-purpose flour
1 teaspoon baking soda
2 tablespoons butter, softened
8oz cream cheese
1 cup confectioners' sugar
¼ teaspoon vanilla extract
Confectioners' sugar for dusting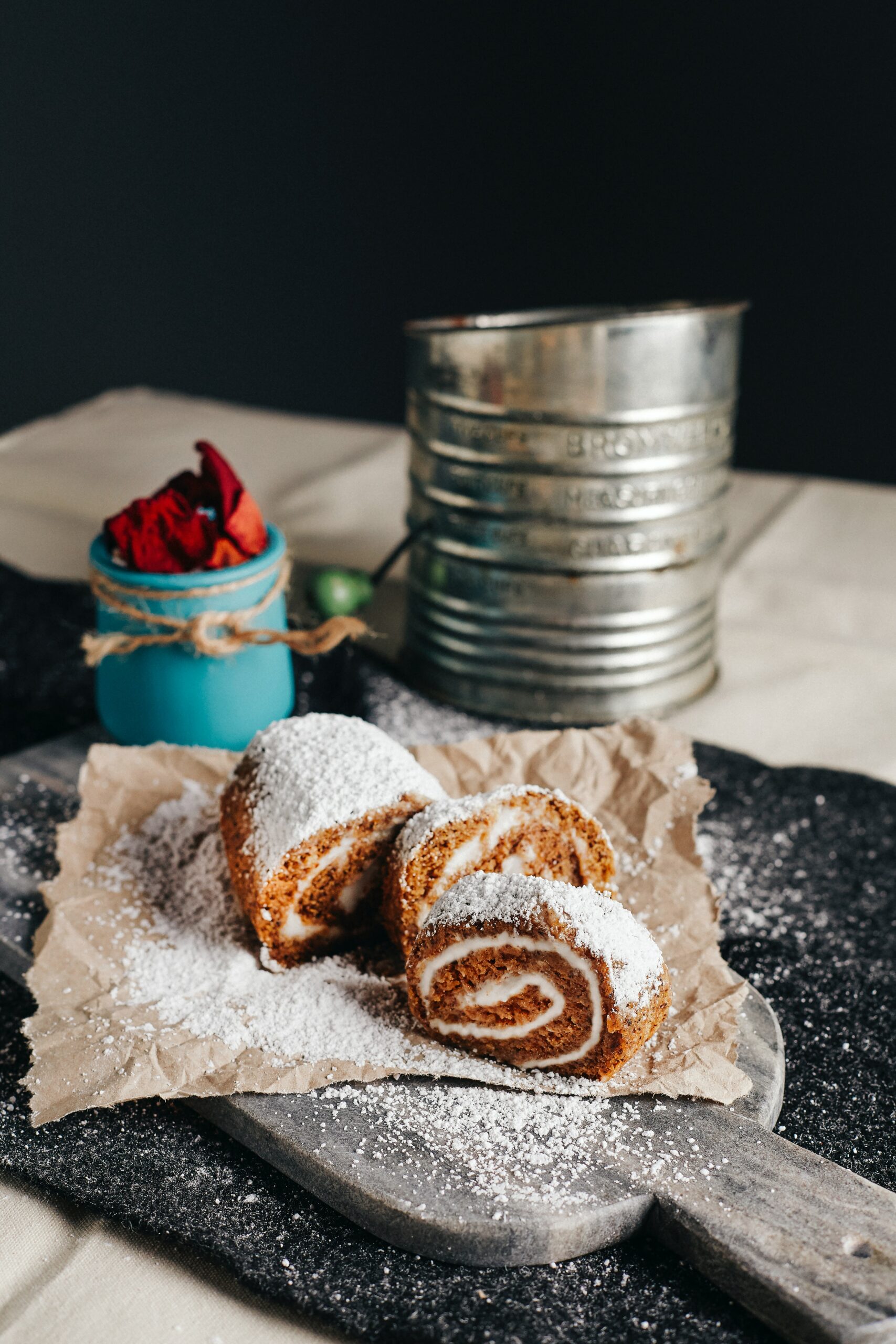 Directions:
Preheat oven to 375 F
Butter or grease one 10X15 inch jell roll pan
Blend eggs, sugar, cinnamon, and pumpkin in a mixing bowl. In a separate bowel mix together the flour and baking soda. Add to pumpkin mixture and blend until smooth
Evenly spread the mixture over the jelly roll pan
Bake 20 to 25 minutes (use a tooth pick to make sure it comes out clean)
Remove from the oven and allow cooling, before handling
Remove cake from pan and place on small kitchen towel (cotton towel). Roll up the cake by rolling a towel inside cake and place seam side down to cool
Prepare the frosting by blending together the butter, cream cheese, confectioners sugar, and vanilla
When cake is cooled, unroll and spread with cream cheese filling. Roll up again without the towel. Wrap with plastic wrap and refrigerate.
Sprinkle top with confectioners' sugar
Del's Mother's Famous Natillas (A Mexican Dessert)
Prep – 10 min.
Cook – 8-10 min.
Serves – 6-7; perfect for when you're opening up gifts!
Ingredients:
4 cups milk
4 eggs
1 teaspoon salt
3 tablespoons flour
3/4 cup sugar
Ground cinnamon
Directions:
Separate yolks from egg whites. Save the yolks. Whip the egg whites with an electric mixer until stiff, then set aside.
Heat milk in a deep saucepan on medium high, then add sugar and salt. Stir frequently with a whisk so the milk doesn't rise over the edge of the pan as it warms.
Whisk flour with 1/4 cup water. Add it to the milk mixture and boil for approximately 2 minutes, until mixture thickens. Stir constantly so the bottom doesn't scorch.
Reduce heat to medium. Add the egg yolks and, gradually, the stiffened egg whites. Continue to mix on the stovetop until mixture has a pudding-like consistency.
When completely mixed, pour into a bowl. Sprinkle cinnamon on top. Serve warm or chilled.
Staci's Chocolate Peanut Butter Praline Pie
A decadent mashup. Seriously, you'll only need a tiny sliver.
Ingredients:
¾ cup light brown sugar, packed
½ cup granulated sugar
3 Tbsp all-purpose flour
2 eggs
1 Tbsp milk
1 tsp vanilla
1/3 cup butter, melted
1 cup pecan pieces (that's pronounced "pick-AHN" – don't fight me on this)
½ cup semi-sweet chocolate chips
½ cup peanut butter chips
9-inch pie crust
Directions:
Preheat oven to 375 degrees.
Stir together brown sugar, granulated sugar and flour in a medium bowl.
Beat in eggs, milk, vanilla and melted butter.
Stir in pecan pieces, chocolate chips and peanut butter chips, and pour into pie crust.
Bake 35-40 minutes until just set and golden brown. Cool completely before serving.
Anne Claire's Fudge Pie
Prep – 15 min.
Cook – 65 min.
Serves – 8
Ingredients:
1 stick butter softened, not melted
1 cup sugar
2 eggs
1 teaspoon vanilla
3 tablespoons cocoa
1 teaspoon salt
½ cup all purpose flour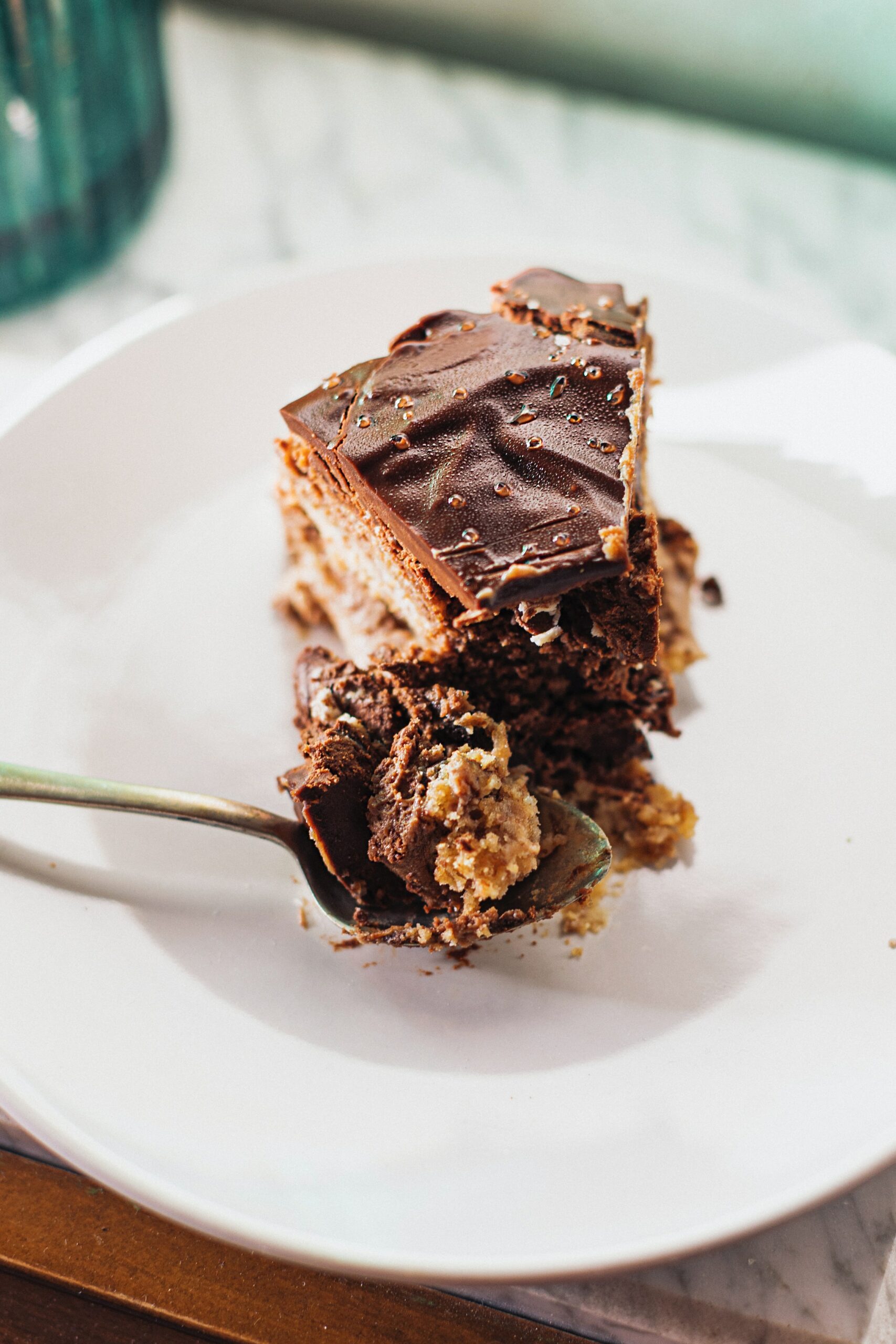 Directions:
Preheat oven to 350 F.
Cream butter and sugar with mixer until fluffy, should take about 3 minutes.
Add the eggs, vanilla, cocoa, salt and flour, stirring by hand (makes pie gooey instead of cakey).
Pour into a pie shell and bake 30-35 minutes or until set. The top should crack like brownies. Let cool for 10 minutes and serve warm with ice cream.
And a few delicious desserts from external links:
Roberta
https://www.verybestbaking.com/recipes/18477/Butterscotch-Haystacks
Lindsey
Finally, we've come to the end of our culinary exposition. We hope you've enjoyed all of our treats, and if you didn't have time to try them all, don't worry! There's always next year. (Or you can just keep baking through summer – we don't judge).