Ever wonder how commercials get made? Well, unlike sausage, it's not too gruesome of a process, but it does take a lot of planning, effort, and teamwork. Video production involves three steps, each playing an equally valuable role in a successful project.
Pre-production – preparing and planning for filming
Production – filming
Post-production – editing the footage and assembling the final product
Look behind the Esparza curtain for a peek into our video production process.
A great story is crucial — it dictates whether an ad lives or dies. When a client comes to us with a need, brainstorming is the first step in translating that need into a video. The entire creative team comes together to spitball ideas, from directors to designers. There are no bad ideas at this stage, and we often "go big" with zany concepts! Later, we narrow these ideas down to the three strongest concepts that will speak to the intended audience and provoke a call to action, all while staying true to our client's brand authenticity.
Writing and Storyboarding:
The next step is putting those ideas to paper. Our art director & copywriter synthesize the final concepts into scripts. From there, we create storyboards that break the script down shot by shot. This is important because it allows our clients to visualize our ideas and imagine how the final video might look.
Afterward, we present our concepts to our clients. When they choose the one they love, we make edits and revisions to the script and storyboard. Once this is perfect, we move into pre-production mode!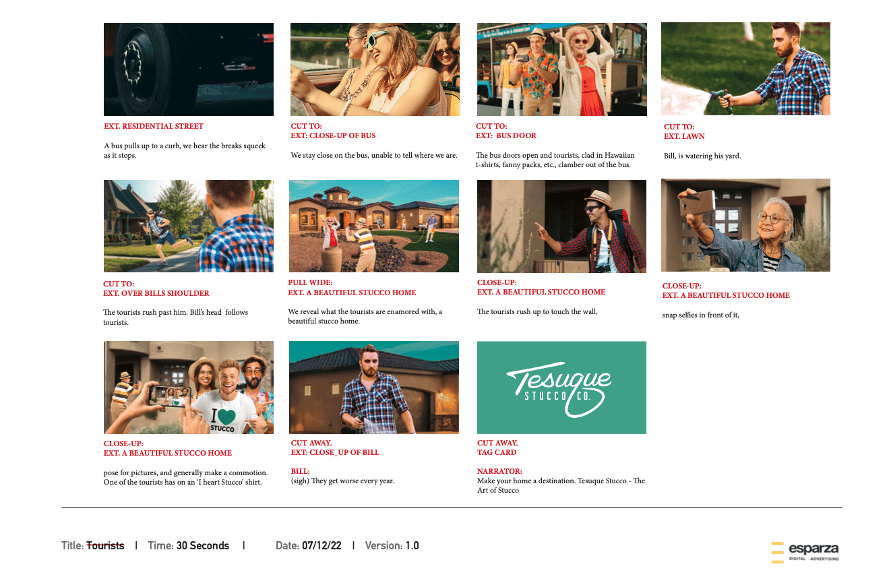 Every video project is different, but this step generally involves scouting locations, voice talent, and actors. At this stage, all the moving pieces must come together, from props and costumes to the type of cameras and lighting equipment we will need. Many projects can be completed in-house using our own production studio. We also work with video production partners if a project's scope requires it.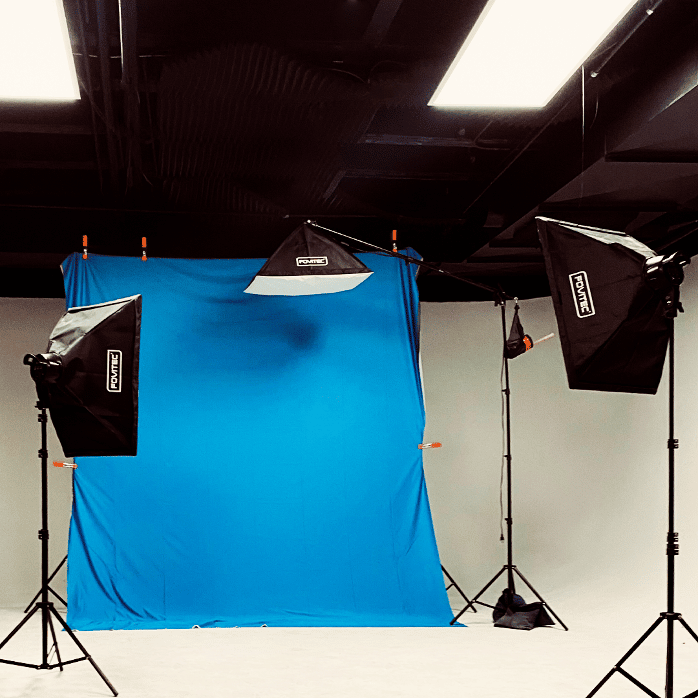 The big day is here! Lights, camera, action! Actual film production can take anywhere from a day to several weeks, depending on the number of locations and complexity of a project.
There's a lot of expertise that goes into film production, from sound quality to lighting, cinematography to film continuity. We always plan, plan, plan so that we're prepared for a hectic but exciting day! There are a million things to remember on the day of production, especially when working with actors, film crews, and tight deadlines, so it never hurts to over-prepare
*A Tip From Our Senior Art Director: A crucial step in the production process is testing every shot before you actually shoot it so that there aren't unseemly props in the background, lousy lighting setups, or malfunctioning camera equipment. Frame your shot, test your equipment, and use stand-ins to ensure the tops of heads or shoulders won't cut off in the final product.
"It's a wrap," but the filmmaking journey isn't over!
Post Production is where the magic happens, and the final product comes together. It involves everything related to cutting and rearranging raw footage, correcting color, adding visual effects like CGI, and adding music, voiceovers, and other sounds. Many hours are spent categorizing the footage, selecting which shots to use, and splicing the rough version together. Many more hours are spent perfecting that rough cut.
Post Production can be a labor of love, but it's always worth the results.
*A Tip From Our Senior Art Director: Sound is a critical part of post-production. The captured sound needs to be synced to the appropriate clip, sometimes a voiceover needs to be added, and foley sounds (reproductions of everyday sound effects) are used to enhance the viewer's experience.
Once we have a final spot, it's ready to go out into the world. From television to digital ads, Esparza places video media in front of the right audiences at the right time.
Keep an eye out; our work is probably playing on a screen near you!