Global pandemics. Acts of terrorism. Hurricanes, earthquakes, tornadoes and floods. When a community suffers from harrowing events like these, for brands, it can be difficult to know how to react, and especially how to message. Is it a time for business as usual, or for a quiet period? Is there an obligation to communicate? To advertise? To engage via social media, inbound marketing or direct customer engagement?
The only certainty is that messaging during and immediately following difficult and tragic times is precarious. Hitting the right note can become a brand's most shining moment, but striking the wrong tone — however unintentional — can be devastating.
As we find ourselves several weeks into the COVID-19 crisis, you may be wrestling with this challenge, wondering how to balance the need to stay visible with empathetic and supportive messaging that doesn't appear opportunistic. Every brand's situation will be unique, but there are some general do's and don'ts to bear in mind.
Audit, Evaluate, Assess… Then Thoughtfully Execute
First and foremost, audit your planned campaigns and already-scheduled tactics for any content that is suddenly inappropriate, ill-advised or at odds with the current reality.
The last thing you need is to appear tone-deaf. For example, once we all upped our hand-washing habits — and after a vocal public outcry — KFC realized that pausing its decades-old "finger lickin' good" slogan was both responsible and smart. Tourism companies pulled emails touting travel planning. Restaurants shifted first to messages supporting social distancing, and then to take-out and delivery content.
Next, decide if and what you should directly communicate to your customer base.
When the seriousness of COVID-19 became apparent, brands from airlines to retail stores to dog walkers rushed to get emails out, explaining how each was addressing the situation. Some of these were warranted and useful. Others, less so. Instead of leaping to send an email and cluttering up the inbox of every customer who ever engaged with your brand, consider if you can meet the need in a less obtrusive way — a pop-up on your website or a social post can be just as effective.
On the other hand, there is value in remaining engaged with your audience. Staying visible lets you nurture relationships and keep strong ties with existing customers. And when there's important information or the occasional update to be shared, going dark doesn't make sense. If your brick-and-mortar property is temporarily closed but you're still fulfilling online orders, make sure your customers know. Make it easy for them to find the latest updates, hours of operation, how to contact you and when you'll be back at full strength.
You'll also need to assess if it makes sense to continue media and marketing campaigns.
Depending on the gravity of the situation, the best course may be to pause or at least roll back your ads, blogs and social posts. You may decide that for now, it's more important to be helpful and informative than clever and profit-focused.
Finally, if you've decided that you will run full or slimmed-down campaigns during or shortly after a crisis, a thoughtful approach is crucial. Some key considerations:
Do show empathy and lead with compassion.
Do appear genuine and authentic. False concern will be obvious and do you no favors.
Do associate your brand with good. Whether you're supporting or leading a helpful initiative, connect your brand to positive efforts.
Don't try to capitalize on a difficult situation. It's never okay to profit off the misfortune of others.
Don't behave opportunistically. If you're price gouging that essential product, you're not helping.
The Gold Standard: Brands That Got It Right
Invariably, there will be brands that get it wrong — so wrong. You could fill a museum with 9/11-related missteps alone — do a quick Google search and you'll find plenty of examples. We'd rather focus on a few examples of brands getting it so, so right.
Guinness. When it became evident that COVID-19 was on a collision course with St. Patrick's Day, the renowned Irish brewer didn't miss a beat. With parades and gatherings around the world certain to be canceled, Guinness not only accepted the situation, they leaned into it with a spot that both encouraged lovers of the black stuff to celebrate wisely and look forward to the day when "we will march again." This overtly human, self-sacrificing approach became an instant classic and set a new standard for messaging in times of uncertainty.
Nike. Another response to the COVID-19 pandemic, Nike's "play for the world" campaign thus far features an inspirational message, free access to its training app, and a poignant :60 spot featuring brand ambassadors and common folk alike. Responsible, caring and 100% on brand, it's basically a PSA with that familiar swoosh logo.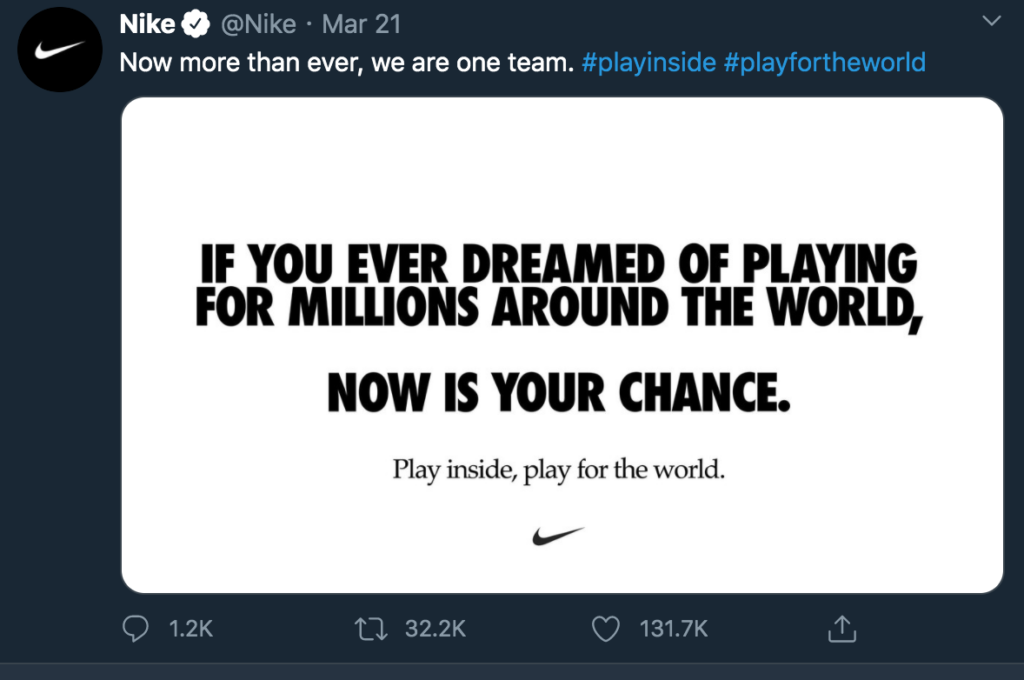 Visit Las Vegas. A mass shooting during a 2017 music festival left Las Vegas shaken and bewildered. For a town that relies on visitors, the devastating event stood to have long-term consequences beyond the terrible human toll. Stepping far away from its brand identity, the Las Vegas Convention and Visitors Authority called upon tennis superstar and native son Andre Agassi to deliver a stripped down, heartfelt message of resilience.
Marriott. Five years after the flood waters receded in New Orleans and surrounding Gulf Coast towns had begun to rebuild, multinational hospitality company Marriott congratulated the Crescent City and its residents for their resilience in the face of adversity. This full-page ad ran for a single day, in a single newspaper. Its simple but powerful message works by putting the emphasis on the victims rather than the advertiser, showing support for a community rather than capitalizing on its own contributions to the city's revitalization.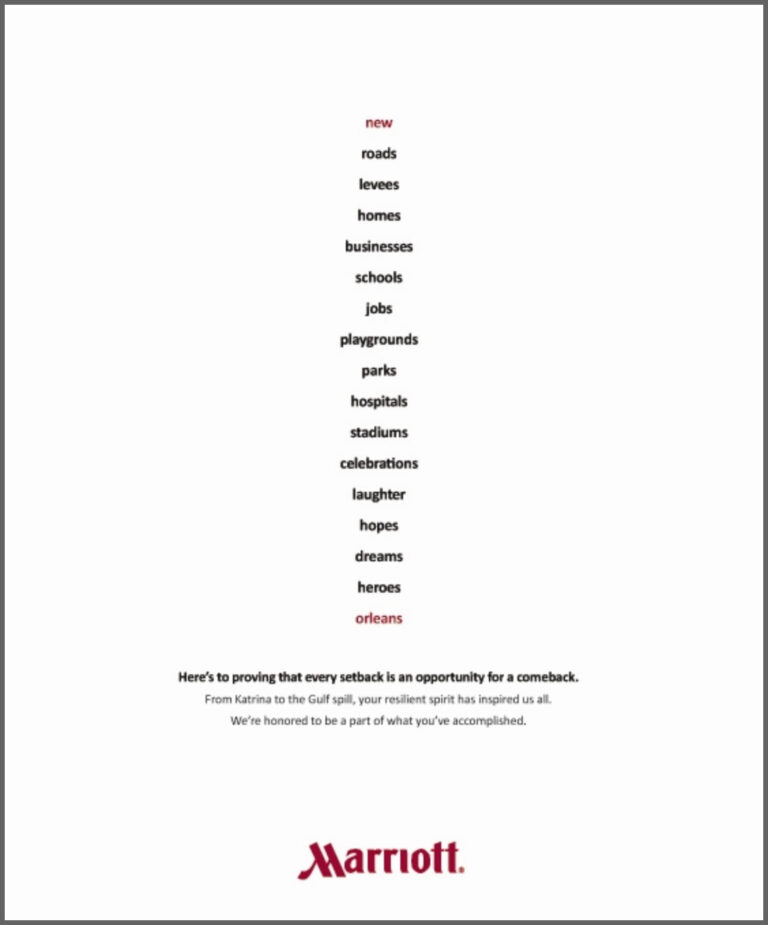 Budweiser. In the weeks and months following the terrorist attacks on 9/11, countless brands attempted to incorporate empathy and honor into their traditional messaging tactics. Many failed. In 2002's slate of Super Bowl ads, however, Budweiser showed why it's a perennial messaging superstar. This wordless spot featuring its iconic Clydesdales paying tribute to the forever changed Manhattan skyline ran only once. Nearly two decades later, its powerful message resonates as strongly as ever.
Compassionate Intent + Brand Consistency
Of course, not every business has the resources these multinationals do—and that's okay. Your media budget is less important than your earnest, compassionate intent paired with smart execution. And no matter your company's size, the keys to thoughtful, empathetic messaging are to understand your audience, carefully consider an approach that's true to your brand and deliver with humanity.
Which recent shifts in brand messaging have made an impact on you? We'd love to hear from you.
Coming Up: Next week we'll talk about the tangible efforts many brands are making to be helpful in light of the COVID-19 crisis. We think you'll enjoy the good news. Stay tuned.