Since the introduction of voice assistants in 2011, the use of voice search technology has grown rapidly. As we make our way through 2020, it's predicted that by the end of the year, nearly 50 percent of all internet searches will be done by voice. As more people begin using the newest technology offered by their smartphones and various smart speaker devices, businesses have struggled to keep up.
According to a 2019 study, only 4 percent of businesses with a physical location are voice-search ready. So what can you do to become one of the few businesses taking advantage of this new internet browsing technology?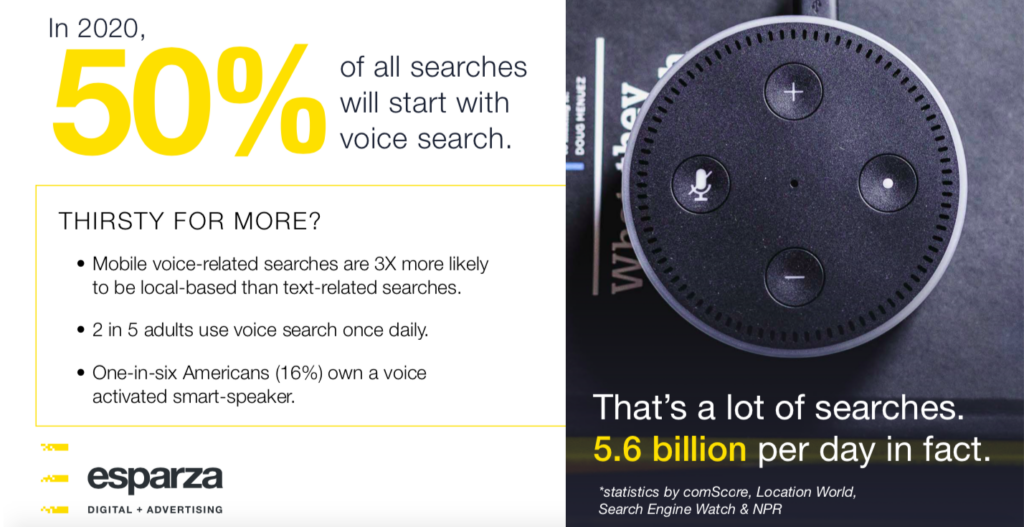 Build Content That Answers Voice Searches
First, you need to think about how you can answer the types of questions people are asking on voice search.
Because the language people use for voice search is more conversational, the content in your website should shift toward this type of language as well. According to research done by comScore, a traditional internet searches consist of 2-3 words, while voice searches more consistently contain 4 or more words. In addition, voice searches are almost always phrased in the form of a question, "Where is the nearest pizza place?" What country produces the most T-Shirts? Who played Han Solo? You get the point. As the semantics change, we must change with them.
By predicting the questions your customers will ask, you can build content related to answering these questions on your website. Be sure to include information about your services in as much detail as possible, using keywords that match frequently asked questions. This will help your website rise to the top of search pages, giving you an edge over the competition.
A great way to do this is to incorporate a blog into your website. For example, imagine you own a company that installs swamp coolers in New Mexico. A family in Albuquerque comes home during July, and their cooler has stopped working. It's hot, so they quickly voice search "Hey Siri, how do I fix a swamp cooler?" In order to take advantage of this search, your website needs to have a page with information about emergency swamp cooler repairs.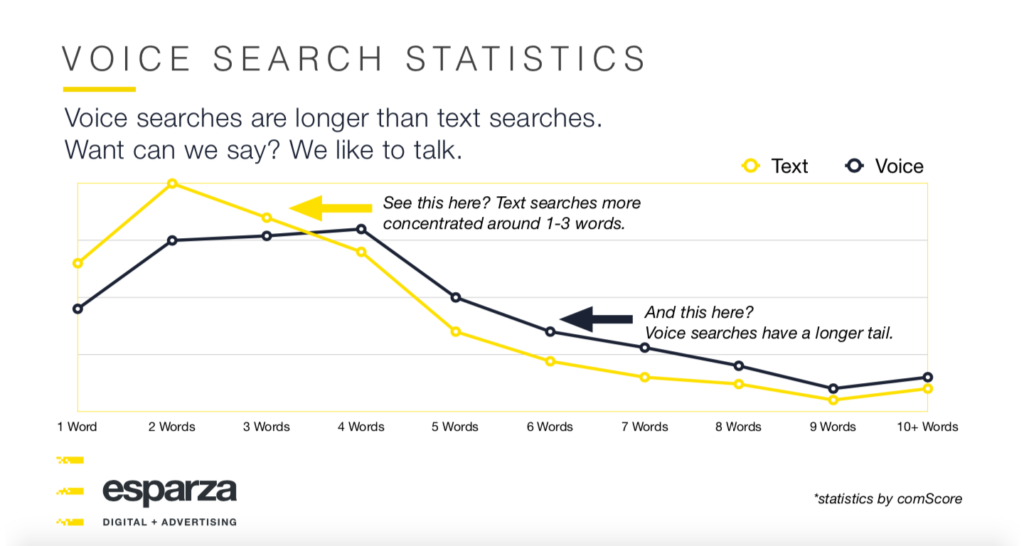 You should consider voice search trends when building out your paid search strategy as well. Incorporating longer tail keyword phrases and conversational keywords can you help you reach more users at each stage in the funnel. The chart below can help you when coming up with queries your customers may be searching.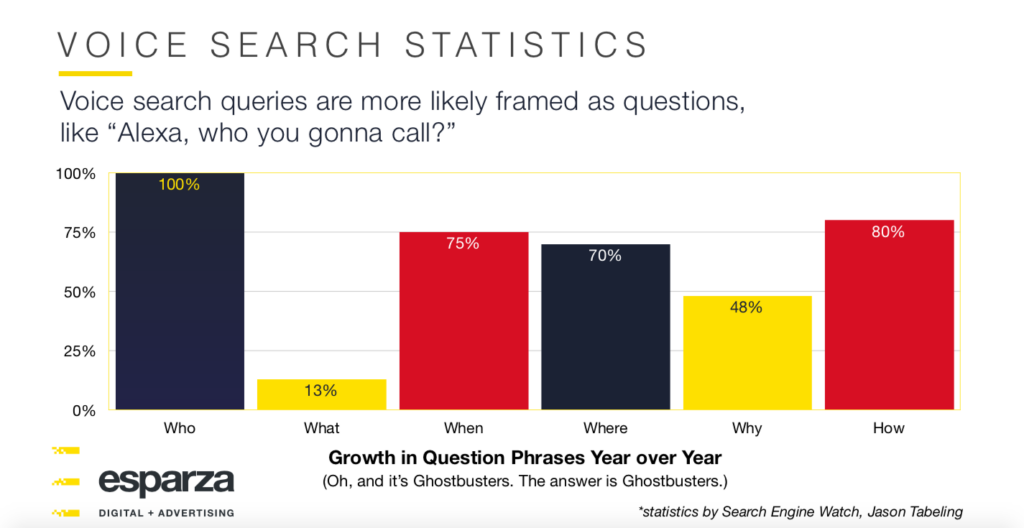 Structured data or "Schema" tells the search engines what your data means, not just what it says. The content on your website gets indexed and returned in search results. But with schema markup, some of that content gets indexed and returned in a different way. Voice search heavily relies on Schema to return the best result for the questions asked. Having properly formatted Schema can help deliver your listing before others. Check out schema.org for more information.
It's also important to have a website that is optimized to perform highly on mobile devices. According to an article by Quora Creative, 55 percent of teens and young adults use voice search on their mobile device every day. If you want to capture the attention of the younger generations (which will become increasingly important as they enter into the workforce and start earning steady incomes), you need to meet their need for instant gratification through a mobile device. 
If you are a local business, keeping up with shifting trends in search is vital. Seventy-five percent of smartphone owners search about local businesses, with 54 percent of these people making food and drink reservations. Others want to know prices at local businesses, inquire about products and services or book appointments. The companies that rise to the top of voice searches will have an undeniable advantage.
The ability to adapt to and take advantage of new trends in voice search could have a big effect on the success of your marketing strategies. At Esparza we specialize in taking advantage of new opportunities and trends. Our 2020 marketing trends deck, outlines five trends to pay attention to in 2020, including voice search.  If you have any questions about implementing your own voice search strategy, get in touch.