Del Esparza

My holiday season starts with the day after Thanksgiving. Yes…I am one of those who dust off the Christmas decorations and puts them all up. It helps put my entire family in the holiday spirit. When the tree is finally fully decorated, one of my children will put the angel on top. Who does it rotates every year, and we can't seem to ever remember who it was that did the year prior. So they all end up doing it. The month of December is such a special time for me. I schedule a day to shop with each of my children and we put together a list of all the gifts that they need to get and we make a day out of it. My oldest daughter, Katelyn (22), loves movies. So we will try to start early and finish early so we can have a nice lunch together and go watch an afternoon movie. My youngest daughter, Madison (19), likes to sleep in, so we will have lunch and then shop. For the last two years, my son, Andrew (11) and I head out early. Then go to Main Event where we have lunch and he beats me at laser tag. The kids celebrate with their mother on Christmas Eve, which allows me to spend that evening with my parents in Old Town Albuquerque. We have dinner and then tour Old Town and the Albuquerque Country Club area for its beauty. It is just the three of us and it is a time that I cherish. Even though my daughters are older, I wake up early Christmas morning to make breakfast and head to their mother's house. She has Santa's presents laid out with a note of inspiration for each of them from Santa. We all open presents and laugh at each other. I am so incredibly blessed. With a great family, great friends and great employees/clients, I take nothing for granted.

Roberta Clark

Growing up, my dad worked in the hotel business, which is open 24/7/365. In order to give his employees time with their family for Christmas, my dad would work on Christmas Day and give almost everyone else the day off. While all of my friends had to wait for Santa until Christmas morning, Santa always happened to come to our house around dinner time on Christmas Eve and no matter how hard I tried I could never catch him! We'd then go to my grandma's house for Christmas Day, and stop at the motel my dad managed to have lunch with him afterwards. As my own children were growing up, we continued the Christmas Eve tradition–Santa is a sneaky fellow though, no matter how careful they were, my kids could never catch him either! We would have tamales and posole for dinner on Christmas Eve, while watching the kids open gifts and then make the rounds visiting all of our family members on Christmas Day after church. Now days, our family tree is quite diverse–in-laws, ex-in-laws, kids who came to visit and I became "Mom" to, step families, the list goes on…This Grandma continues the Christmas Eve tradition for everyone, and on Christmas Day after church, I stay home while a never-ending stream of family comes and goes, making their rounds visiting and eating…and that stream of family visiting is the best present I could ever ask for! It's fun to watch folks open presents, but the best gift of all is time with loved ones.

Emily Howard

My family's annual Christmas tradition is two-fold — Christmas Eve and Christmas morning. On Christmas Eve, we have a festive, yet casual celebration at my aunt's house. We have the same delicious menu year-after-year: cheese spreads and crackers, posole and tortillas/Indian bread and lots of candy and cookies. My favorite part is one particular cream cheese spread that my mom and I make. She still has the Philadelphia® Cream Cheese recipe that she cut out of a magazine over 30 years ago (although we know it by heart now). It contains cream cheese, mayonnaise, parmesan cheese, bacon and green onions. We make in the shape of a beautiful wreath with a red pimento "bow" at the top. I can't wait to devour it by spreading it on Triscuits®. I usually eat so much, I'm almost too full for posole and sweets. Almost. (And, I should also mention that I make an entire other batch of this spread to eat while enjoying the rest of Christmas break.) On Christmas morning, my daughters and I follow the same tradition I did when I was young. We wake up at the crack of dawn (or earlier) and rush to the Christmas tree to see what Santa Claus snuck in the night before while we slept. It usually only takes about 20 minutes for my girls to joyfully tear-off the wrapping paper, see what's inside the boxes and completely empty their stockings. The only rule is that you can't open a present until everyone is awake and at the tree. Following the gift-giving session is a breakfast casserole meal with my parents and brother, while simultaneously watching the girls play with every new toy and try on every new outfit.

Craig Berry

My family celebrates Christmas. For as long as I can remember, we always did the traditional Christmas procedure: church on Christmas Eve, presents Christmas morning, big lunch/dinner with the whole family. There were always some variables, but for the most part, that was the deal. My favorite part was always Christmas morning (of course). But not necessarily because of the presents. While great, the presents were always a group thing, and that meant I had to wait for everyone to get out of bed, get dressed, etc. No, my favorite part was always the stockings. At my parents' house, the rule was always that you couldn't open presents until everyone was there, but you COULD get your stocking. So, since I was always the first person to wake up, I would always go grab my stocking. The stockings were usually full of the same things. There was always a piece of fruit, batteries (double A typically), some chocolate, and assorted odds-and-ends. This was all fine and good, but it wasn't what I loved. What I loved is that for my whole life, even today, my mom would always go through her stocking with complete, total excitement, as if she had no idea what was in there. Now, I learned the truth about Christmas when I was pretty young, after stumbling across a bunch of presents labeled "Santa" in my dad's studio. And even though my mom knows this, and even though I know that she is the one filling the stockings, every Christmas, there's the same shock and surprise on her face as she digs into that overgrown sock-o-gifts. It's that dedication to her craft, of being the greatest mom ever, that makes me love going through our stockings so much.

Kiki Lopez

Every year for Christmas Eve, my family and I go to Old Town. We all get together and have dinner at a local restaurant. Every other family in Albuquerque and beyond has made the same reservations, so the wait is super-long. But we have a blast just laughing, telling stories and being together. After dinner the entire family bundles up and we walk all around the Plaza. We shop in the wonderful stores and just mingle with the other families. Lots of the shops offer hot chocolate or other hot beverages. Luminarias light the path throughout the plaza. After our stroll we head home and everyone gets to open one gift, just one. Then it's off to bed so Santa can come and visit.

Shalen Holt

Like snow on asphalt, flour is sprinkled onto black marble countertops. A handful of freshly kneaded dough is taken out, placed onto the countertop, and rhythmically flattened. Every dull thud of the rolling pin, is another step closer to the glorious holiday confections our family endearingly calls Tea Cookies. As the warmth of the oven begins to fill the room, so do the conversations. Our family shares stories with one another while classic holiday movies quietly play in the background. Perfect circles are cut from the dough then imperfectly rolled into small spheres. Each delicious dough-ball gets a gentle press by the master baker's thumb, creating a small cove. From here, we all anxiously wait as the trays enter the oven one by one. The short time in the oven is part of our long-standing family recipe. It's a generational recipe that is only brought out once a year – making it the most wonderful time of the year. Stacks of trays with beautifully golden cookies await their finishing touch – a dollop of frosting. Multiple trays filled with homemade frosting, once snow white, now become vibrant with colors of reds, greens and yellows. The colors blend delightfully in the pastry bag, ensuring no two cookies are alike. In the end, each cookie becomes a uniquely edible snowflake for all of our family and friends to enjoy. Our annual tradition of making the Tea Cookies is really just a recipe to get everyone together to celebrate each other's company, watch holiday films and reflect on Christmases past.

Lindsey Lubenow

Our annual Christmas Eve party is definitely a holiday highlight for our family. The entire crew (all 42 of us) and often several friends gather at my parents' house for dinner and dancing and we can always count on a certain cousin arriving late with grocery store deli appetizers and boxed wine in tow. The youths prepare all year for their opportunity to showcase new dance moves and we all agree ahead of time on a few songs that MUST be played. Occasionally, there is some theatre or karaoke, but those certainly play second string to the dance party. A lot of life-changing events have happened at our Christmas Eve parties: too much dancing put an aunt into labor, new boyfriends / girlfriends that were inadequately debriefed never returned and grandma learned how to Dougie, which is why it is one of my most cherished holiday traditions.

Tonya Martinez

My holiday season begins with Thanksgiving. We gather together to have a meal that my mom has prepared and after everything is cleaned and leftovers are put away, I like to get together with my grandma and plan our Black Friday shopping strategy. My grandma and I have been doing this for so many years. Then on the weekend, we love to put up our Christmas tree and decorations and help my mom put up Christmas decorations also. That is when Christmas music is welcomed, ha ha. On Christmas Eve, I go to Church with my family at 4 pm. After mass, we go to the cemetery, where my grandfather is buried, and we say a prayer for him and then light luminarias that are placed at his gravesite. After that, we go over to my other grandparents' house, where we eat tamales, posole and many different kinds of cookies. We then open our presents and spend time with cousins and my aunt and uncle. We then head over to my grandma's house where my other cousins and aunts and uncles are and we eat even more things. We then have someone play Santa and hand out gifts. My daughter is usually the one who loves to play Santa for her little cousins. We then open our gifts and take family pictures, including one with all the grandkids and great-grandkids with my grandma. After all the cousins leave, we sit around and talk. I always spend time with just my parents, grandma, brothers, husband and daughter. Happy Holidays!

Bret Cowder

For several years, my wife, Consuelo, and I had a fun tradition for Thanksgiving. While we would always enjoy time with family on Thanksgiving Day, eating turkey, ham, potatoes, red chile and pumpkin pie, we would also plan an overnight stay in Santa Fe for Black Friday shopping! Arriving around 7pm, we would check into our room at the Inn at Santa Fe, relax after eating way too much food and sometimes take a nap awaiting the next round of festivities. The Fashion Outlets at Santa Fe would start their Black Friday deals at midnight and provide a radio station DJ, blasting top 40 hits and passing out Red Bull and donuts, to make it more of a party than just another "typical" Black Friday. With several of the stores having since closed, we have not been back for this midnight madness in a couple of years. Once Thanksgiving and Black Friday have passed, we will spend that Saturday getting all of our Christmas decorations down from the attic to decorate our house for the holiday season. While it should only take us a couple of hours to put out the decorations, it seems to take a bit longer each year, as we tend to reflect and talk about the pieces that were passed down from my mom – a porcelain Ferris Wheel, four or five Santas (possibly more), two golden deer and a three-foot nutcracker, just to name a few. While it does take some work to get our house just the way Consuelo wants it – I definitely look forward to this special time each year.

Beckett Nodal

Each year we go to Wagner Farms to buy pumpkins to carve for the fall season. It's a small, out-of-the-way place. That's why we like it. All the buildings look a bit pieced together, not ramshackle, more like ramshackle-chic. Lots of dust, produce and scattered strands of alfalfa. You can hear horses whinnying nearby or the crow of a posturing rooster. We take a little winding road down to the village of Corrales, sunlight stippling the dashboard through the yellow cottonwood leaves. It feels like we're driving toward all of the great holiday events that will close out the year. The smell of roasting green chile is the first thing to greet you when you arrive and it is one of the greatest aromas you can experience in this life. It's a rich, smoky, sweetness. It carries much more meaning to New Mexicans than simply signaling good food, it ushers in the fall, employs many wonderful farmers around the state and reminds us we're alive. It has been a staple of daily routines and generous celebrations for generations of families. It's the spice you hope to both indulge and neutralize with the soft warmth of a homemade flour tortilla. This time means so much to my family and I because, even though it's a small tradition, it's a time when we can be together and enjoy each other's company. It's an escape from the nearby confinement of concrete and steel and an inauguration of the family season. Seeing the unique pumpkin choices of each family member, watching our children run along the rows of hay bales, searching for that perfect squash and then hugging it with a big smile as they carry it over. These are small moments I always try to remember. Finally, we sit in the small café there and share a meal of green chile stew, roasted corn and caramel apples. Being together under the sunlight and open sky of an autumn afternoon in New Mexico, with my family by my side, reminds me that I live for them and that our Creator loves us.

Forest Garcia

Most of my holiday traditions include a movie and music. This is my favorite time of year, cozy season. On Thanksgiving, amid all of the cooking and prepping for dinner, we also begin our Christmas traditions. We will set up the Christmas tree and then play our invented "ornament" game. We take turns picking an ornament, and the rest will try to guess which ornament we chose, 21 Questions style. In the evening, we watch Christmas movies while shopping the Black Friday sales online and eating thirds. November is also my anniversary month, so my husband and I decided (mostly my decision, but the good husband that he is agreed) to get each other an ornament as our anniversary gift to start our collection for our tree. Christmas Time is a month-long celebration, watching all of the classic and cheesy Christmas movies and listening to Christmas music. We dedicate days for our favorite activities, we go to all of the arts & craft fairs at the schools. We, when I say we, I mostly mean my sister and I, bake our famous mini, sprinkle-covered, biscochitos with our grandpa. The amount of cookies we make covers the 7-foot island in the kitchen. We then send the cookies to our family members. Another day is dedicated to decorating my great-grandparents' house with the two 1-foot Christmas trees they own, and a few knick-knacks. My family's annual matanza is held before Christmas, going on 17 years now, the whole family and friends attend. T-shirts are made for the "original misfits", and there is food for days. Speaking of food, I can't go through season without my family's spiced tea recipe, holiday flavored coffee creamers, holiday mixed drinks, and white chocolate covered cranberries. There is dinner at an aunt's on Christmas Eve, followed by midnight (actually 10:00pm) Mass. On Christmas Day, open gifts, breakfast, and dinner at another aunt's house. The holiday season is my favorite time of year because I get to spend it with my family. I go all in with the decorations and anything Christmas related, reminds me of love. Happy Holidays!

Anne Claire Houck

Our family Christmas tradition starts soon after the Thanksgiving leftovers have been put to rest. Every year, my father sets to work with his outdoor Christmas lights. After days of yard work, repairing lights, buying more lights, and following his creative genius everything is done, and shining bright. His Christmas displays have earned quite the reputation in the small North Carolina town I grew up in, and more than a few Griswold jokes. After, inevitably, my father nearly falls out of the second story window trying to hang up flying reindeer, the immediate focus turns to the food and spending time together as a family enjoying each other's company. My favorite part of this is always Christmas Eve. After everyone piles in the car to go to the candlelight church service, we all gather at my parents' house to enjoy my personal favorite tradition…late-night, pre-gift-wrapping breakfast food. The staples of the night are typical southern food: sausage balls, country ham and red eye gravy, biscuits, and of course, Smith's Red & White sausage (which everyone in town has waited in line for at the small country grocery store). Eventually, when everyone gets tired enough, they go home to either race to bed before presents arrive or begin wrapping presents for the next day. Both of these traditions are some of my favorite memories, and it goes beyond the quality of the food or sheer amount of icicle lights. They are times set aside every year to be with family, to laugh and get frustrated, and embrace being together.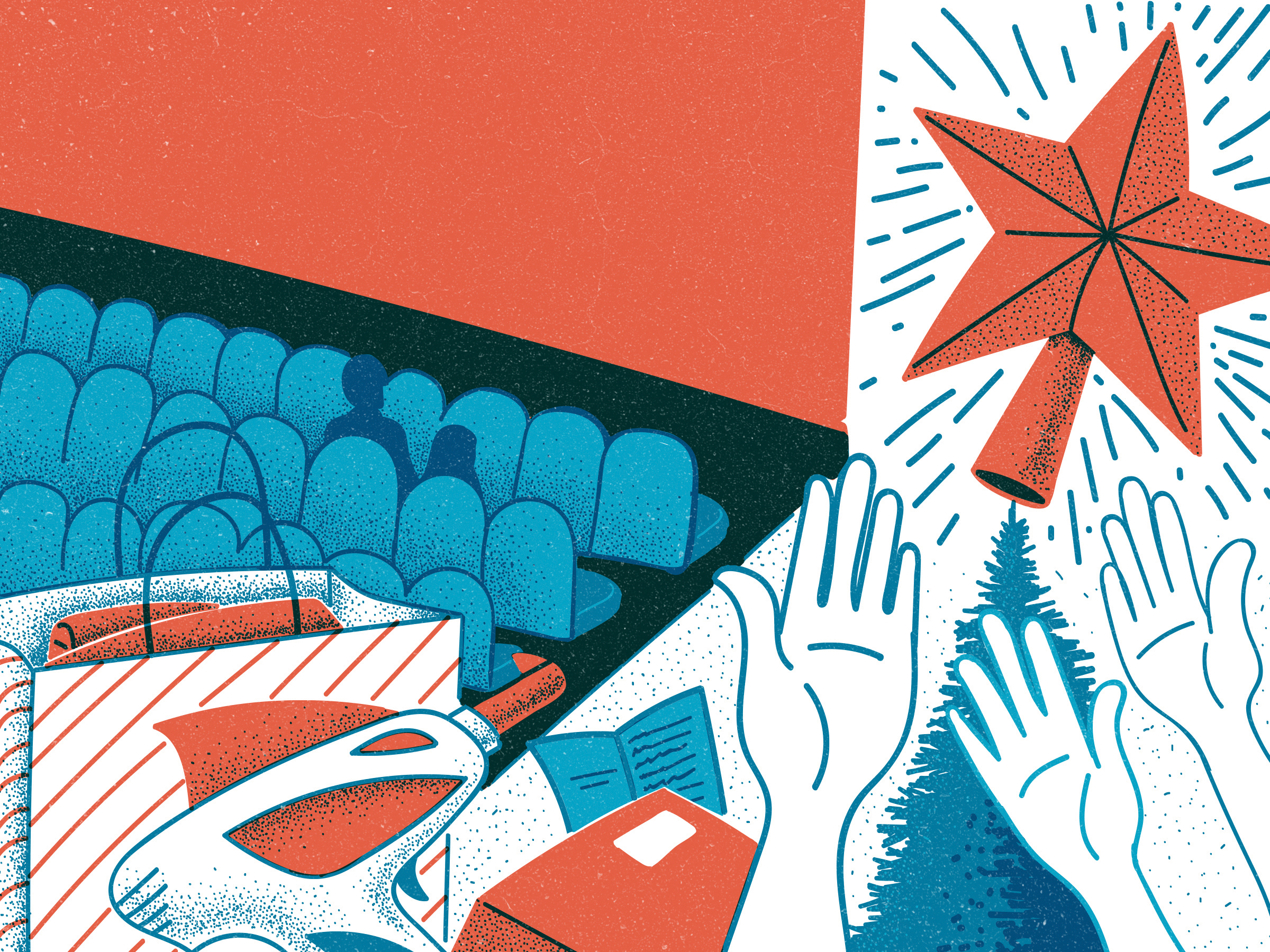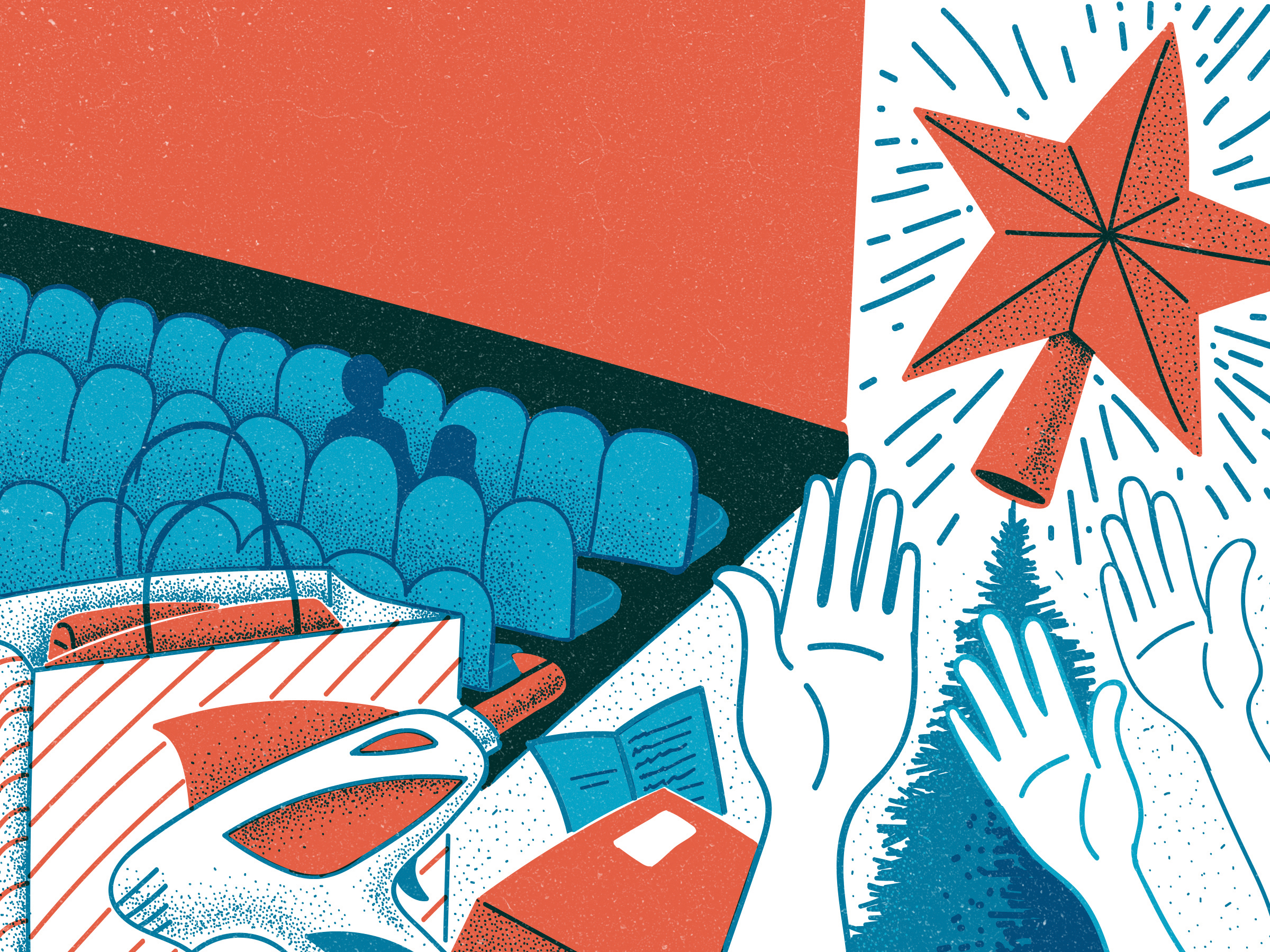 Del Esparza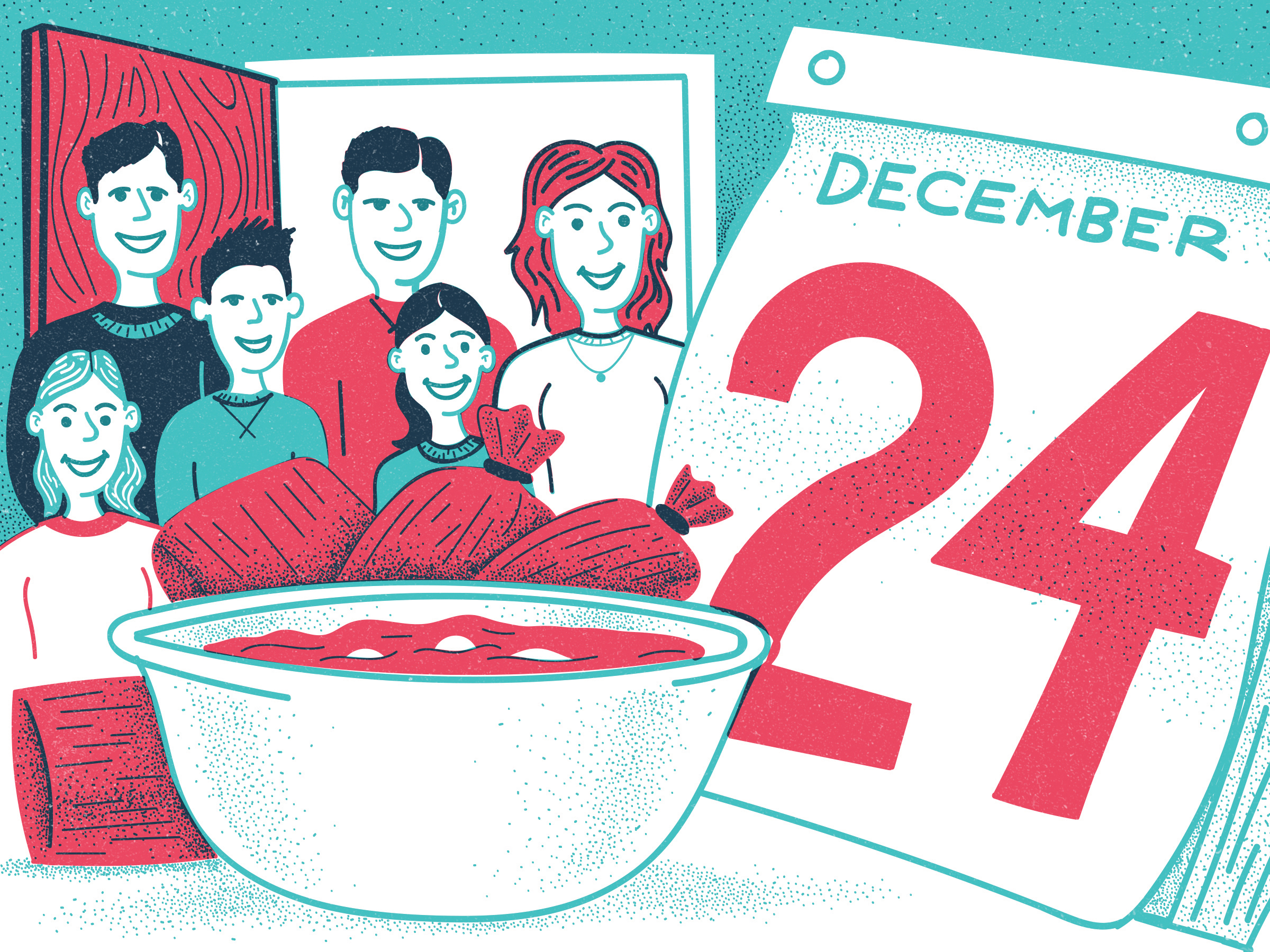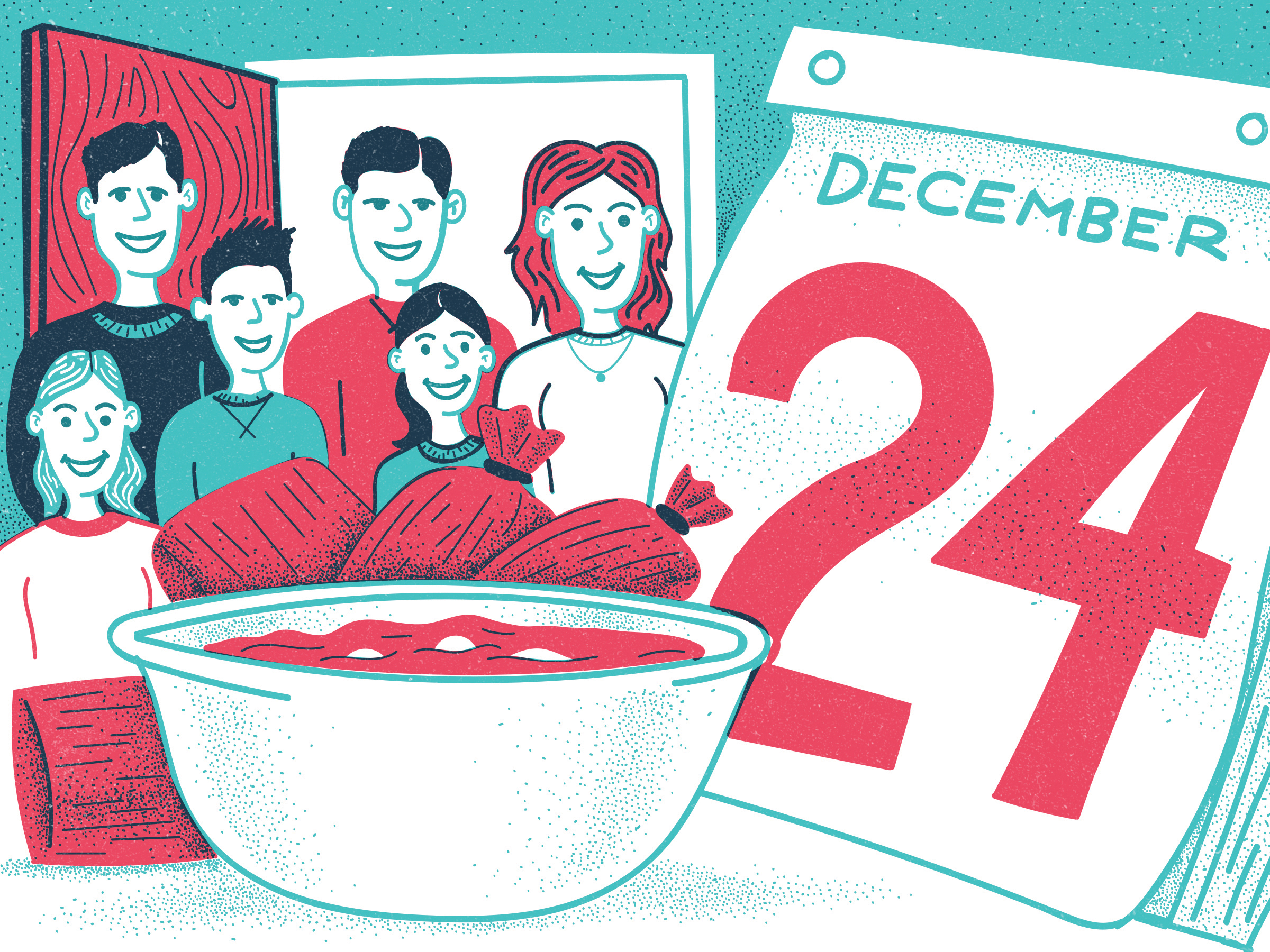 Roberta Clark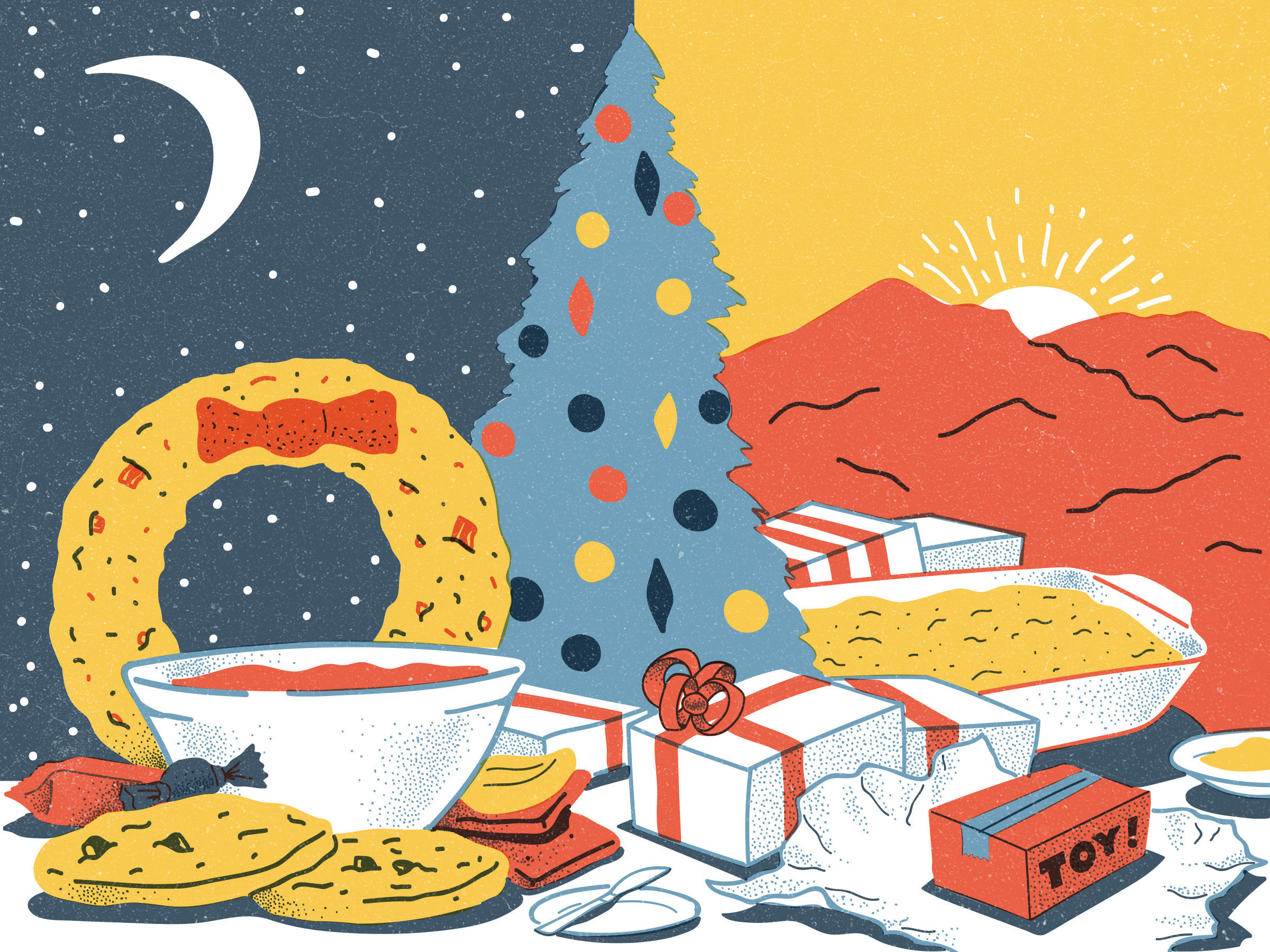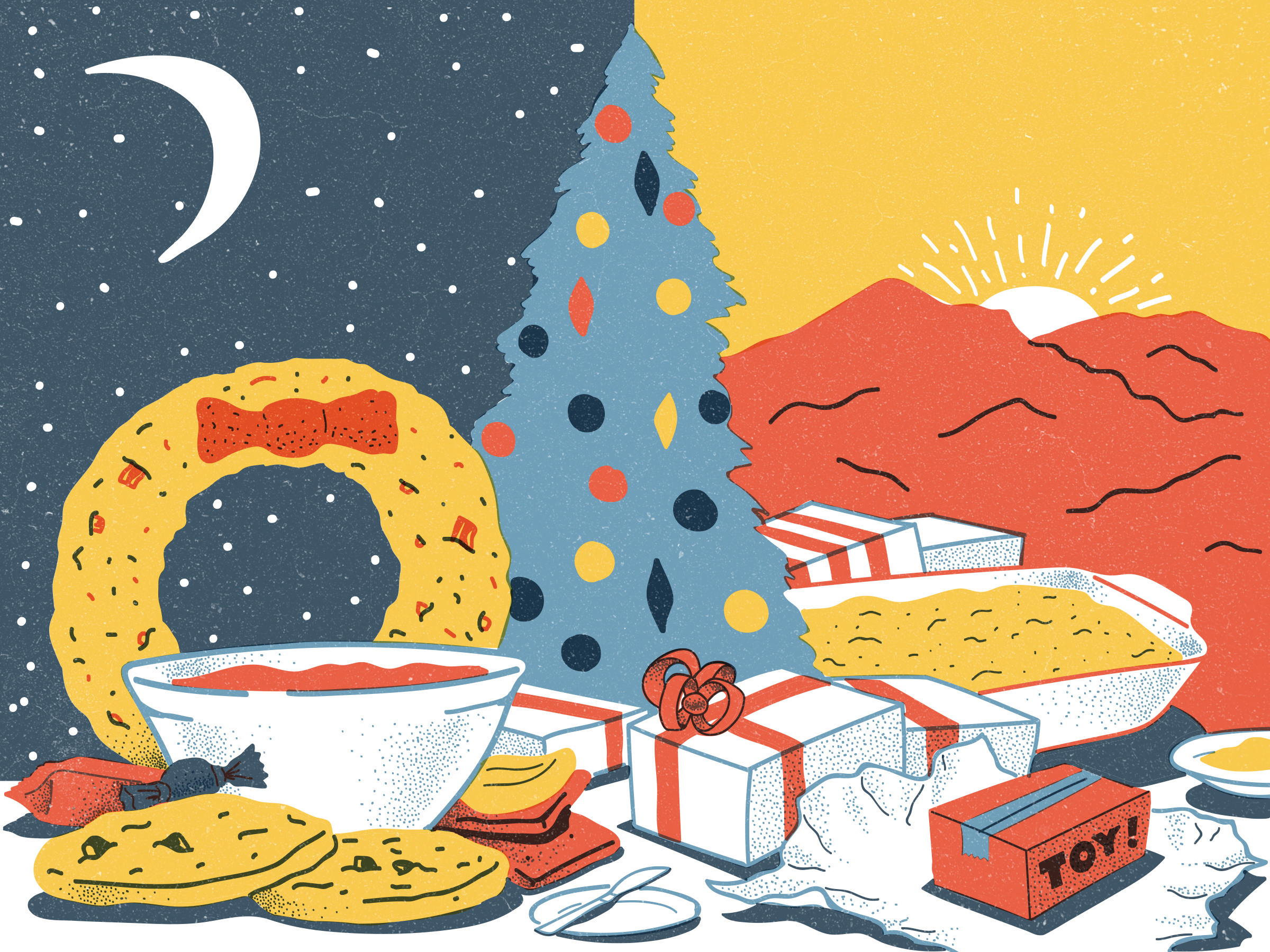 Emily Howard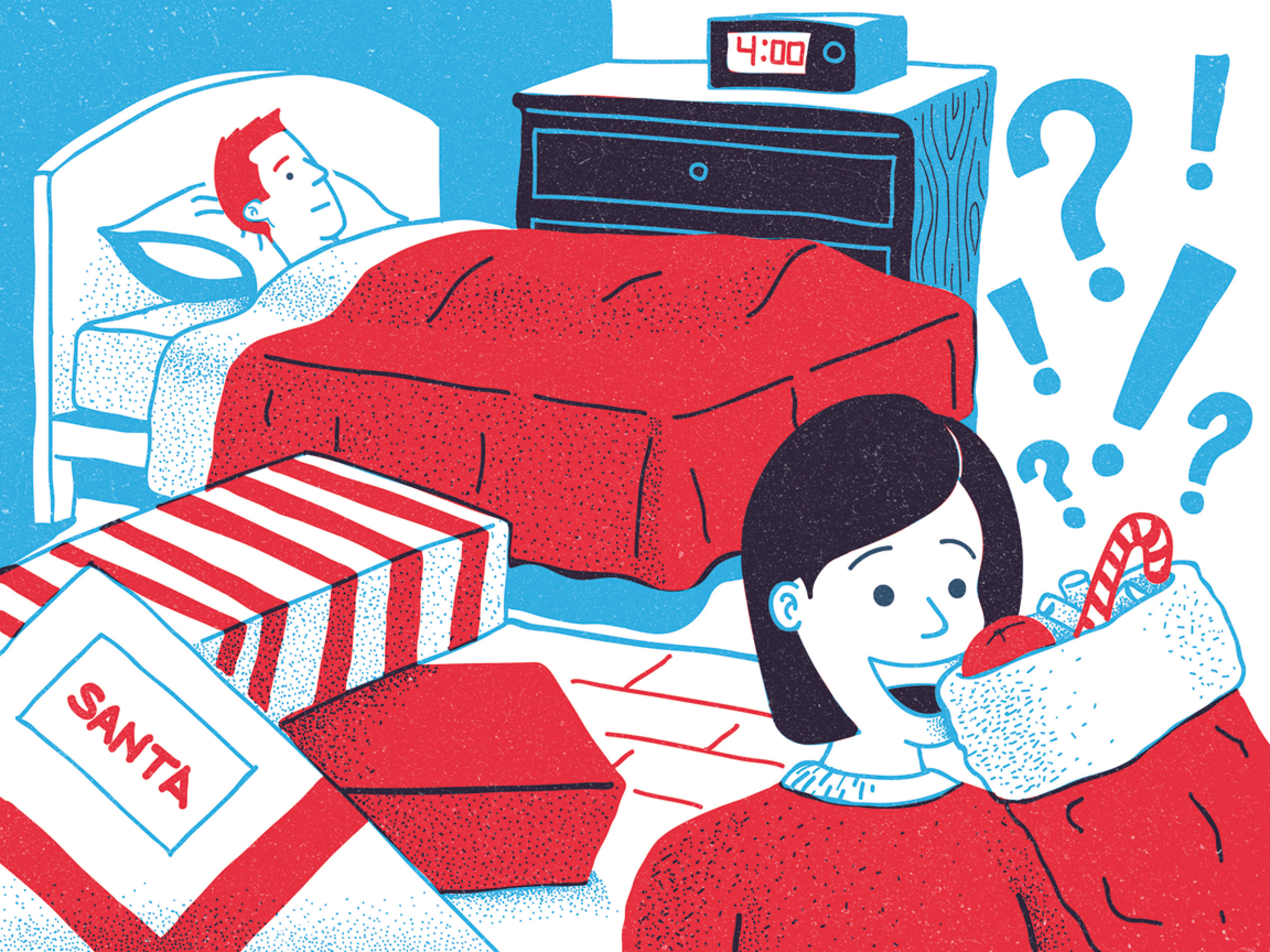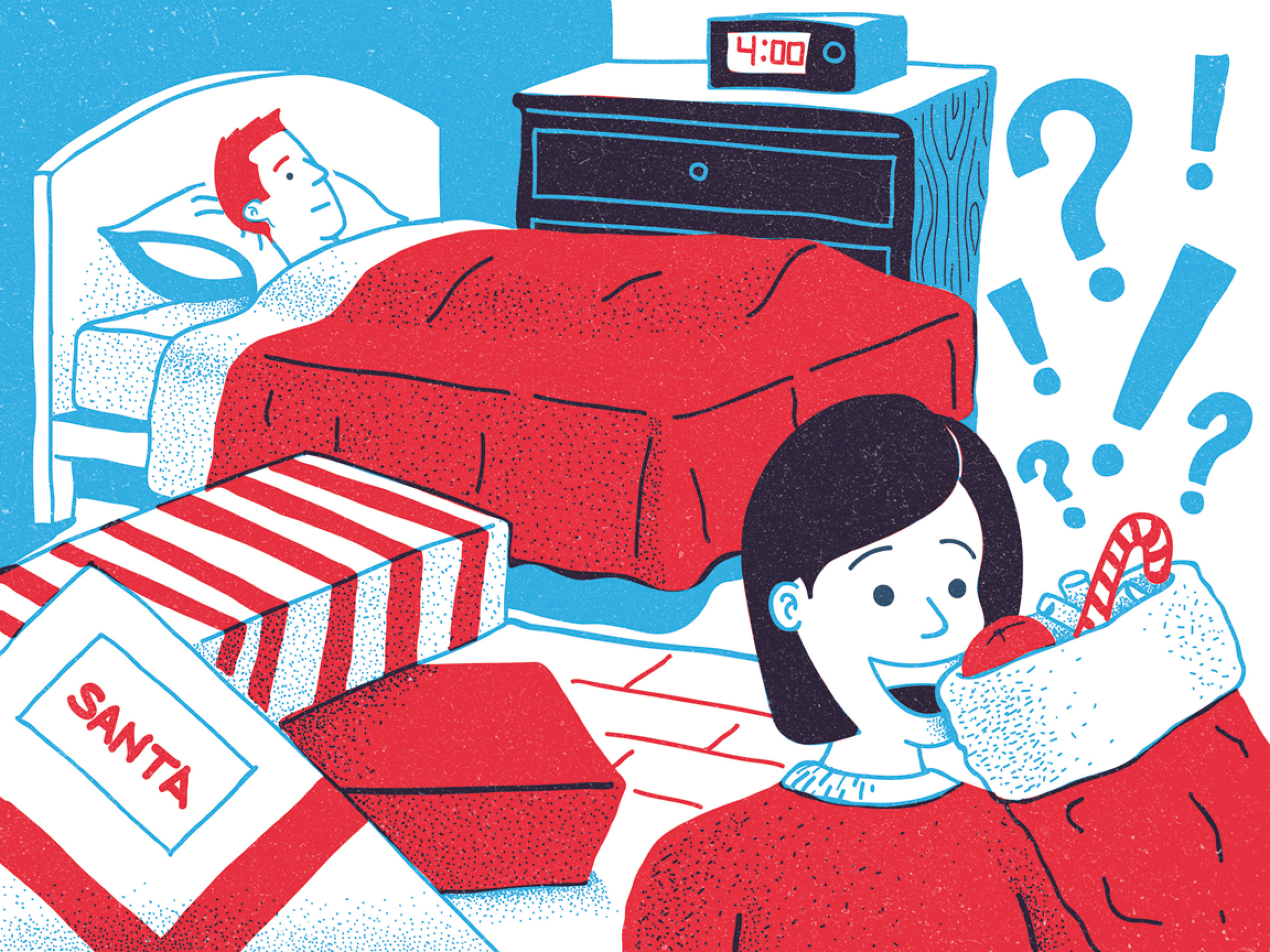 Craig Berry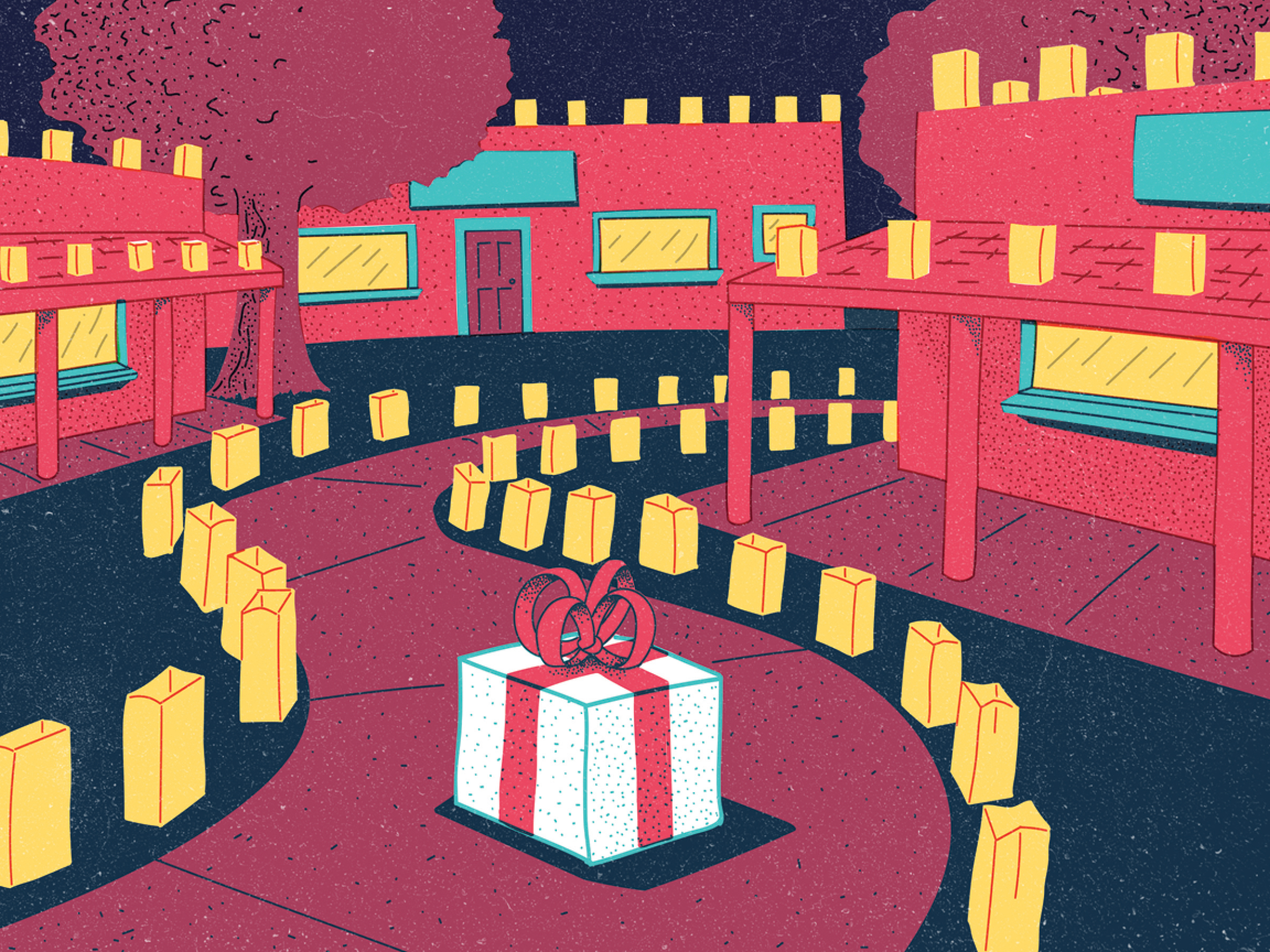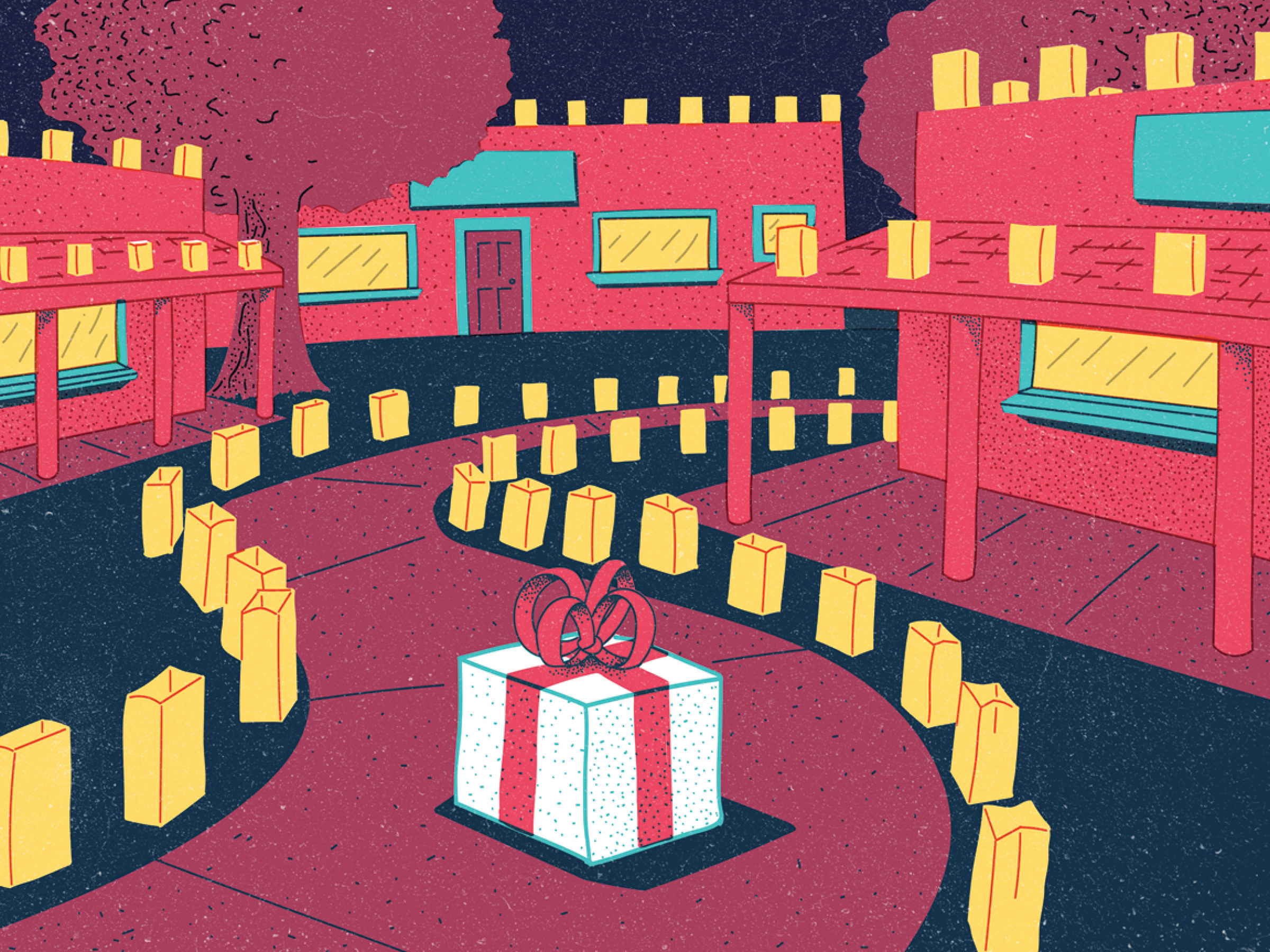 Kiki Lopez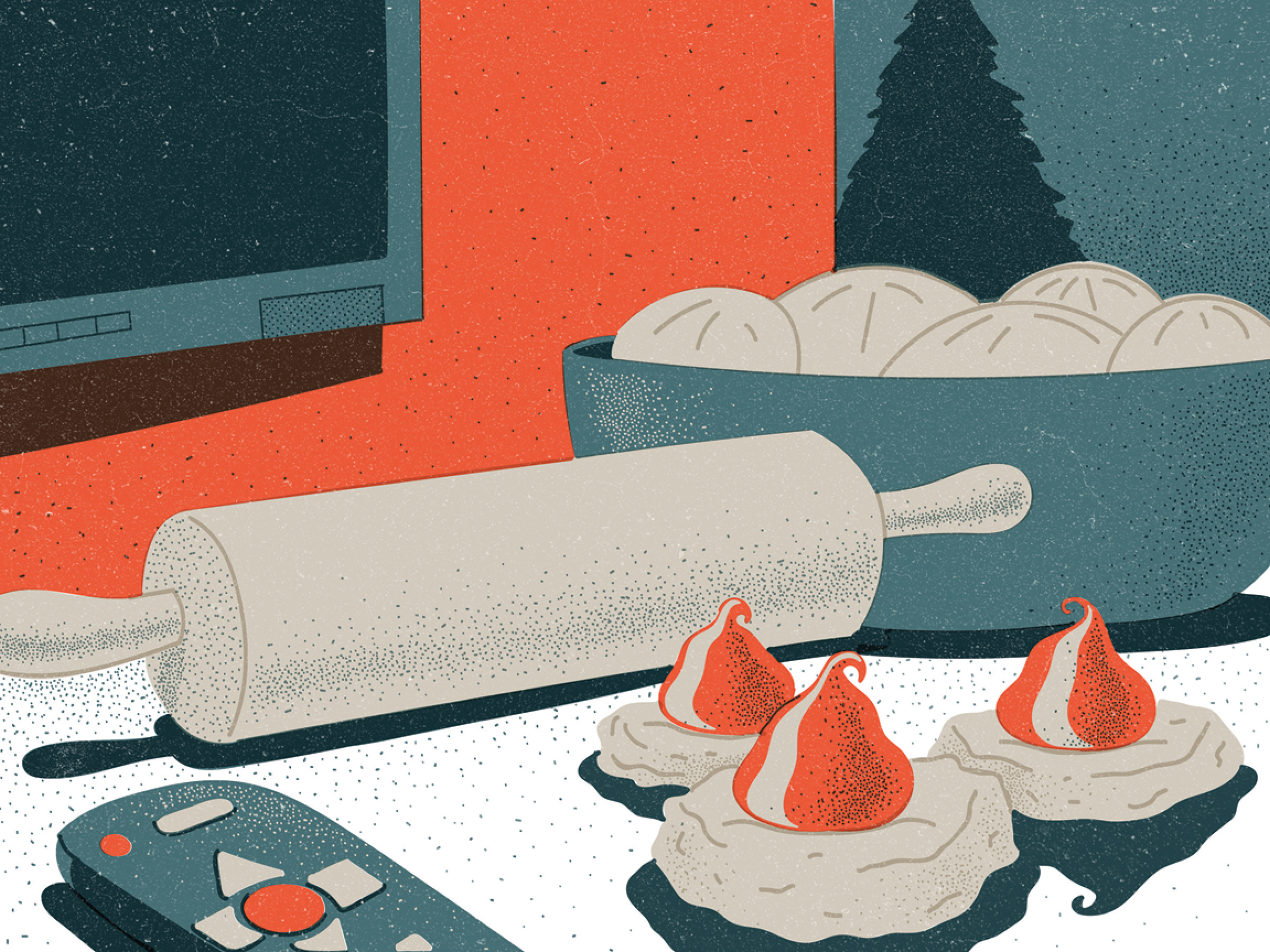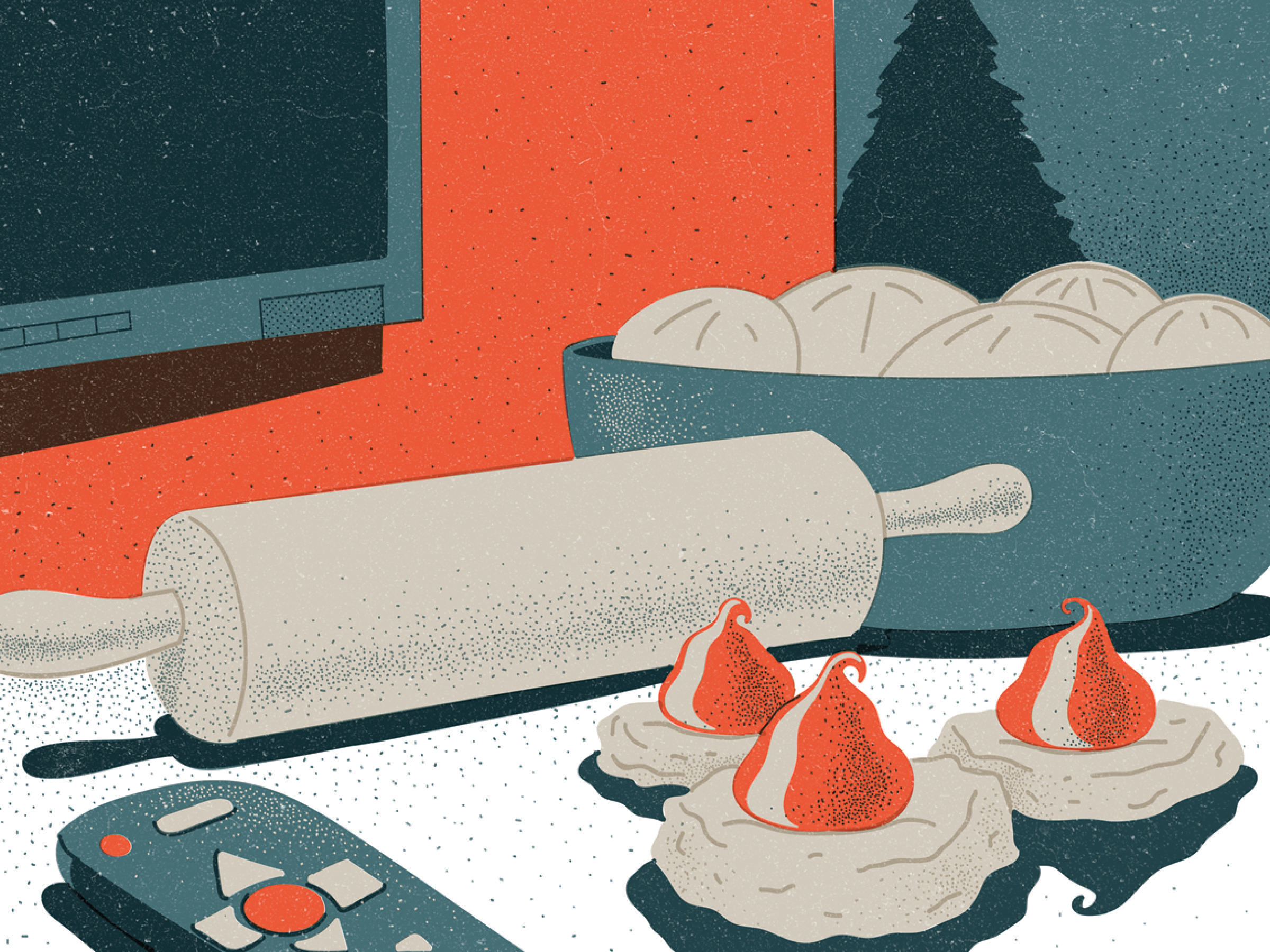 Shalen Holt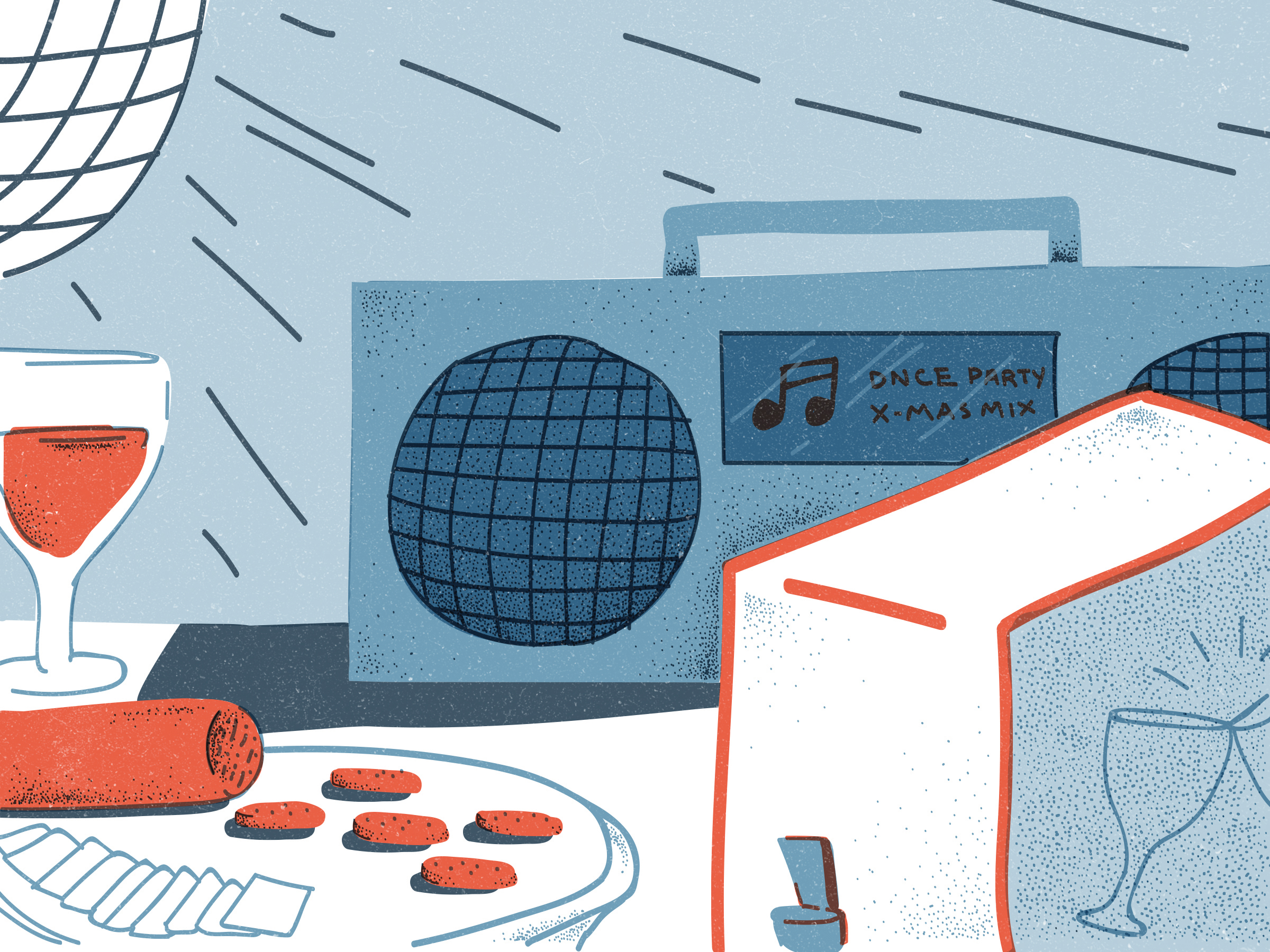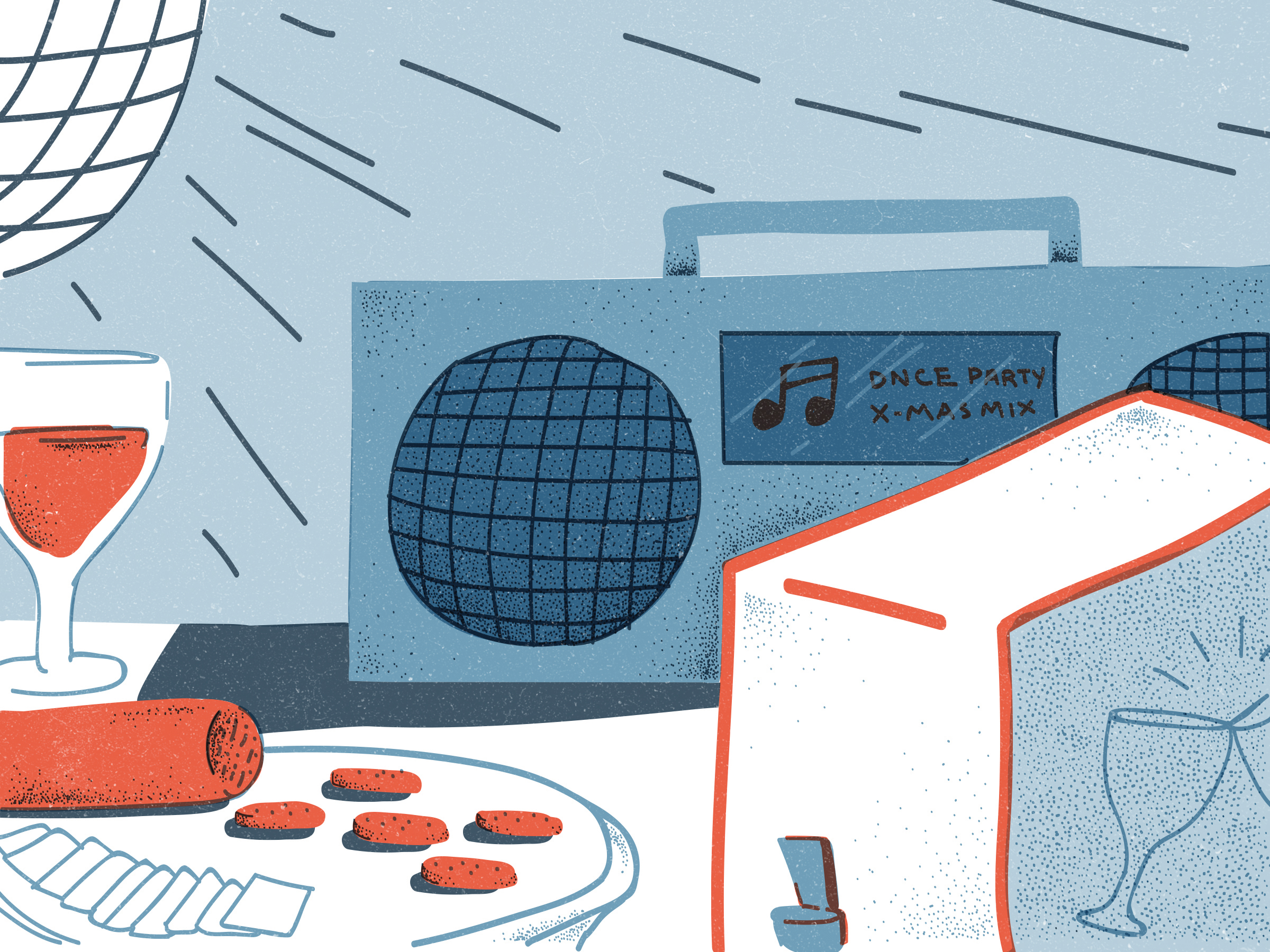 Lindsey Lubenow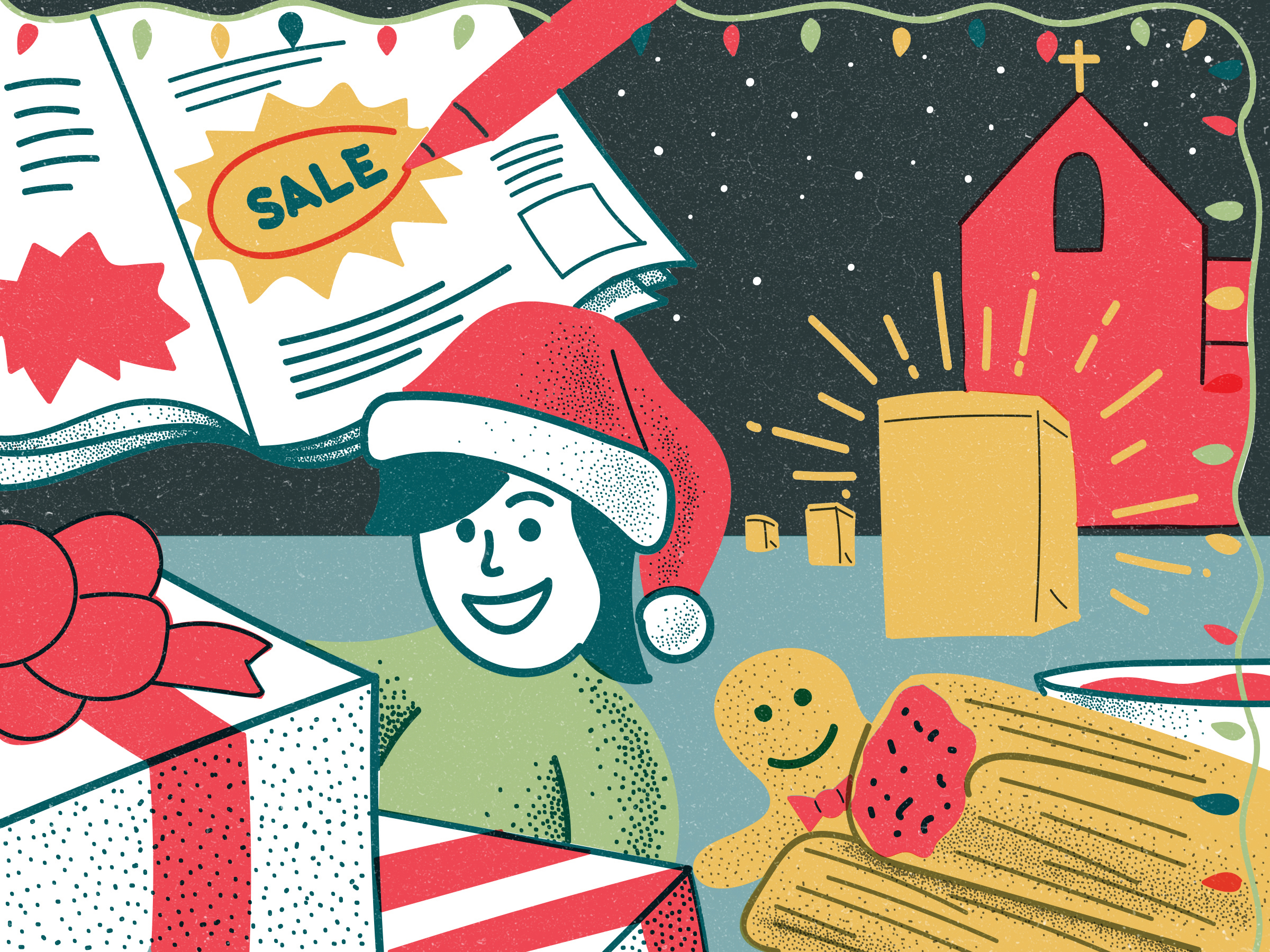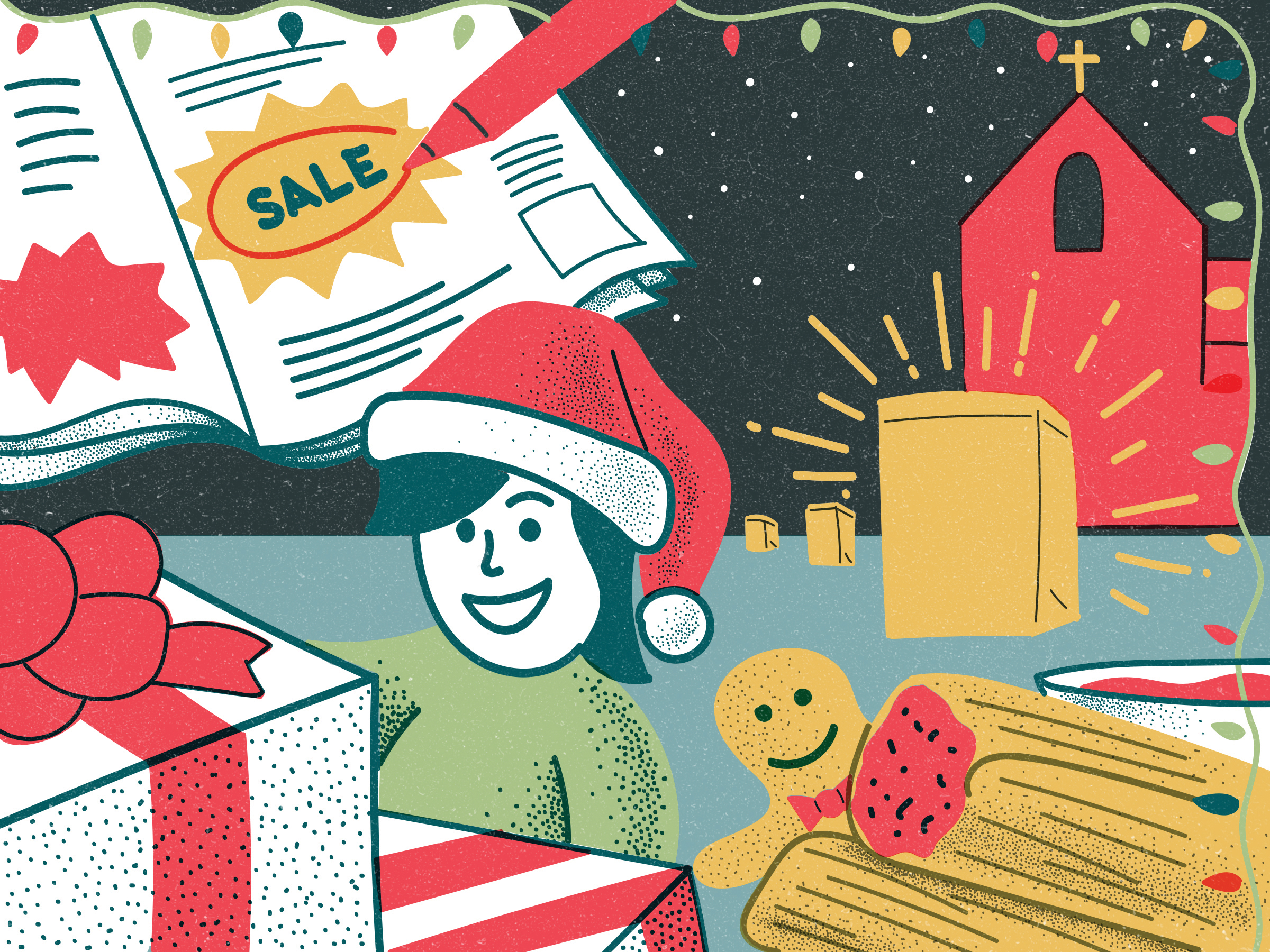 Tonya Martinez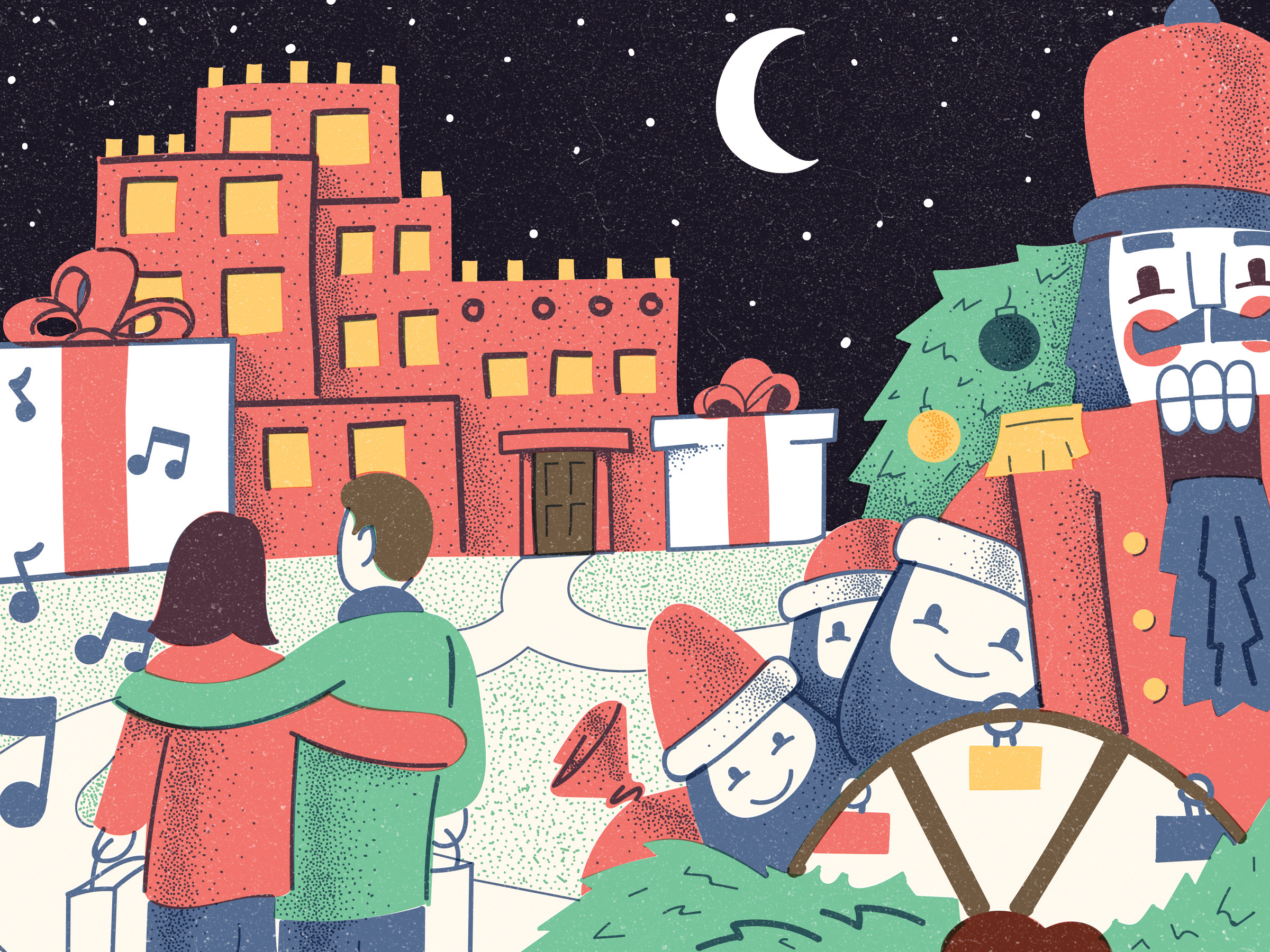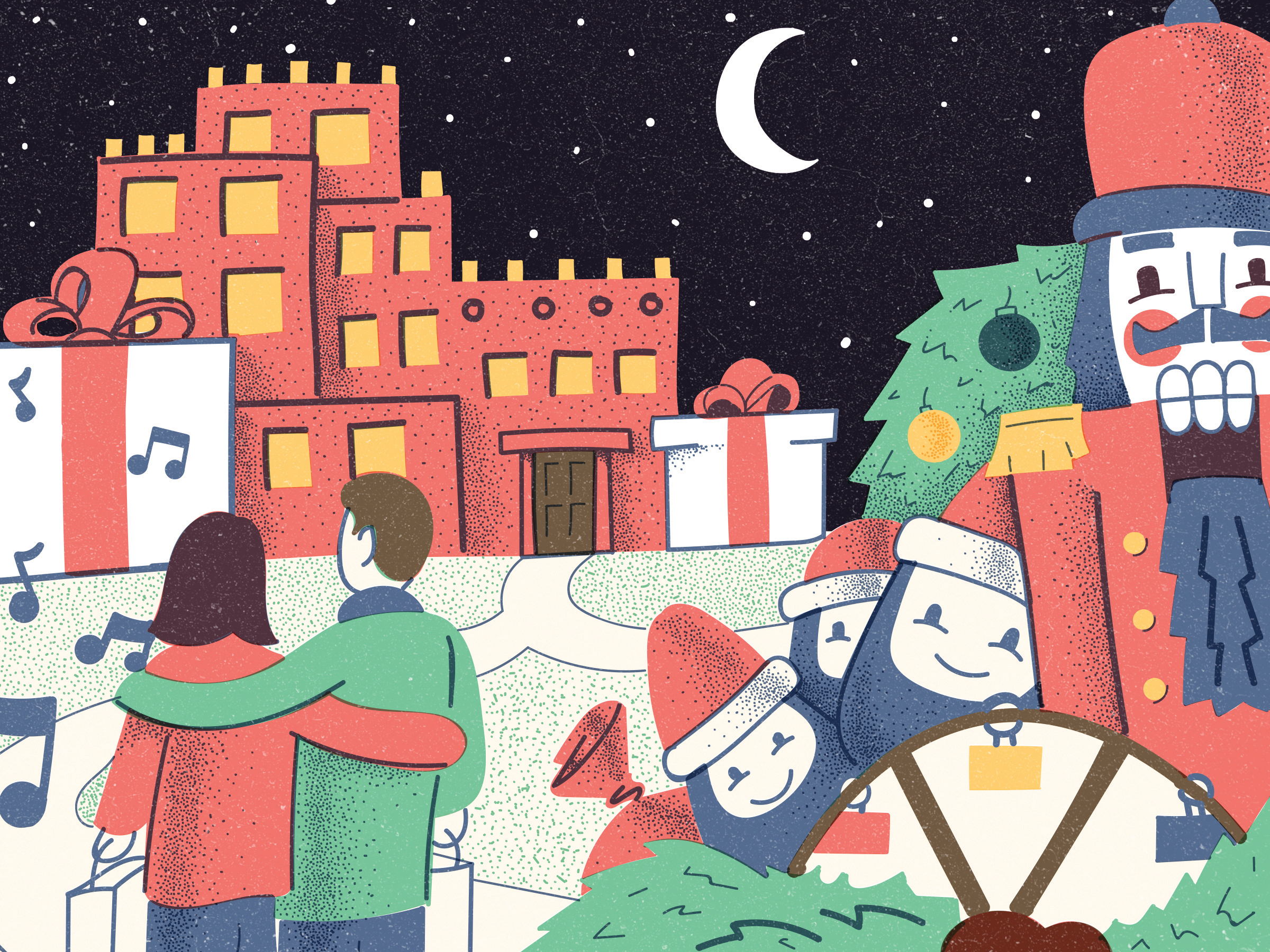 Bret Cowder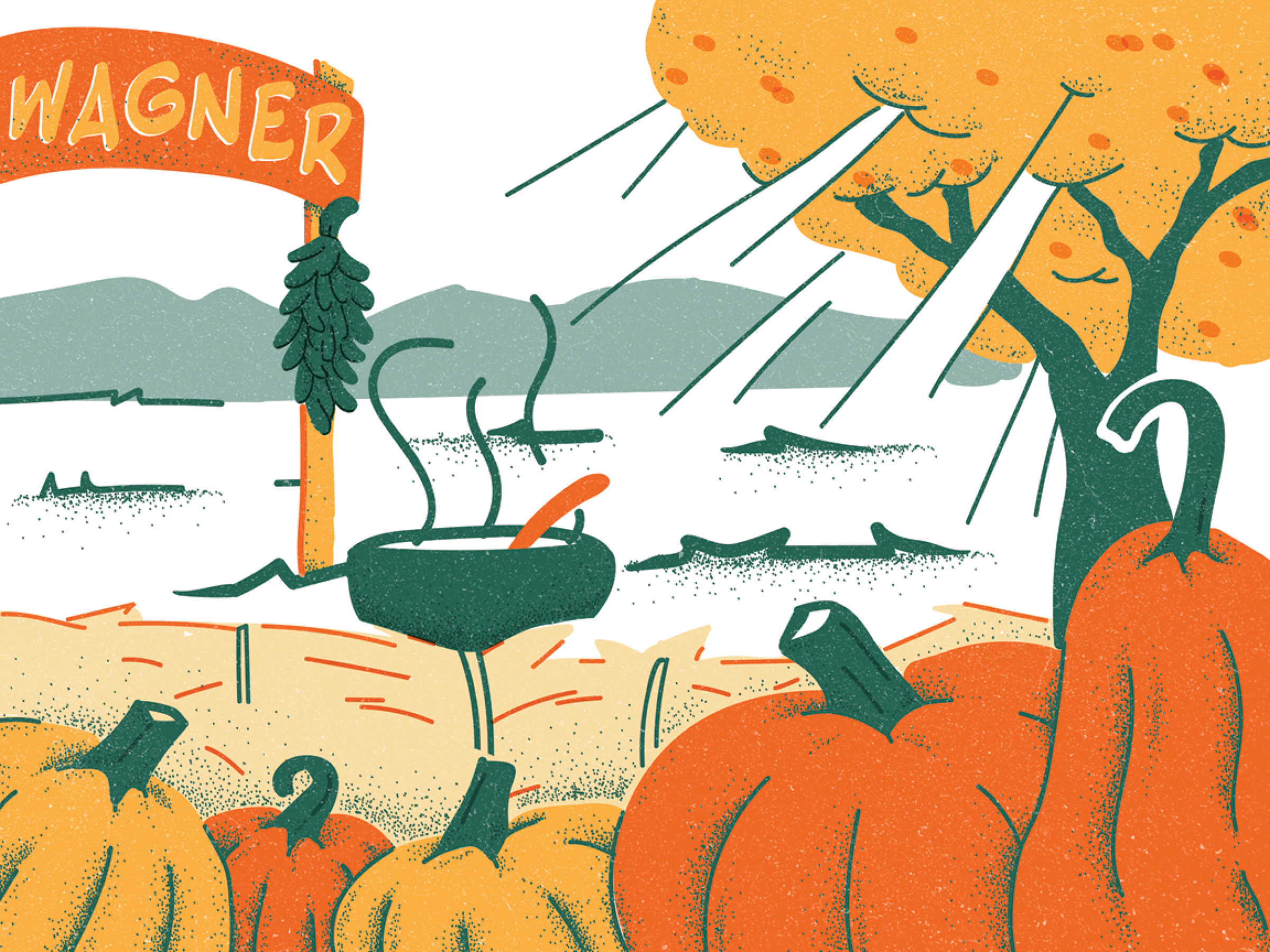 Beckett Nodal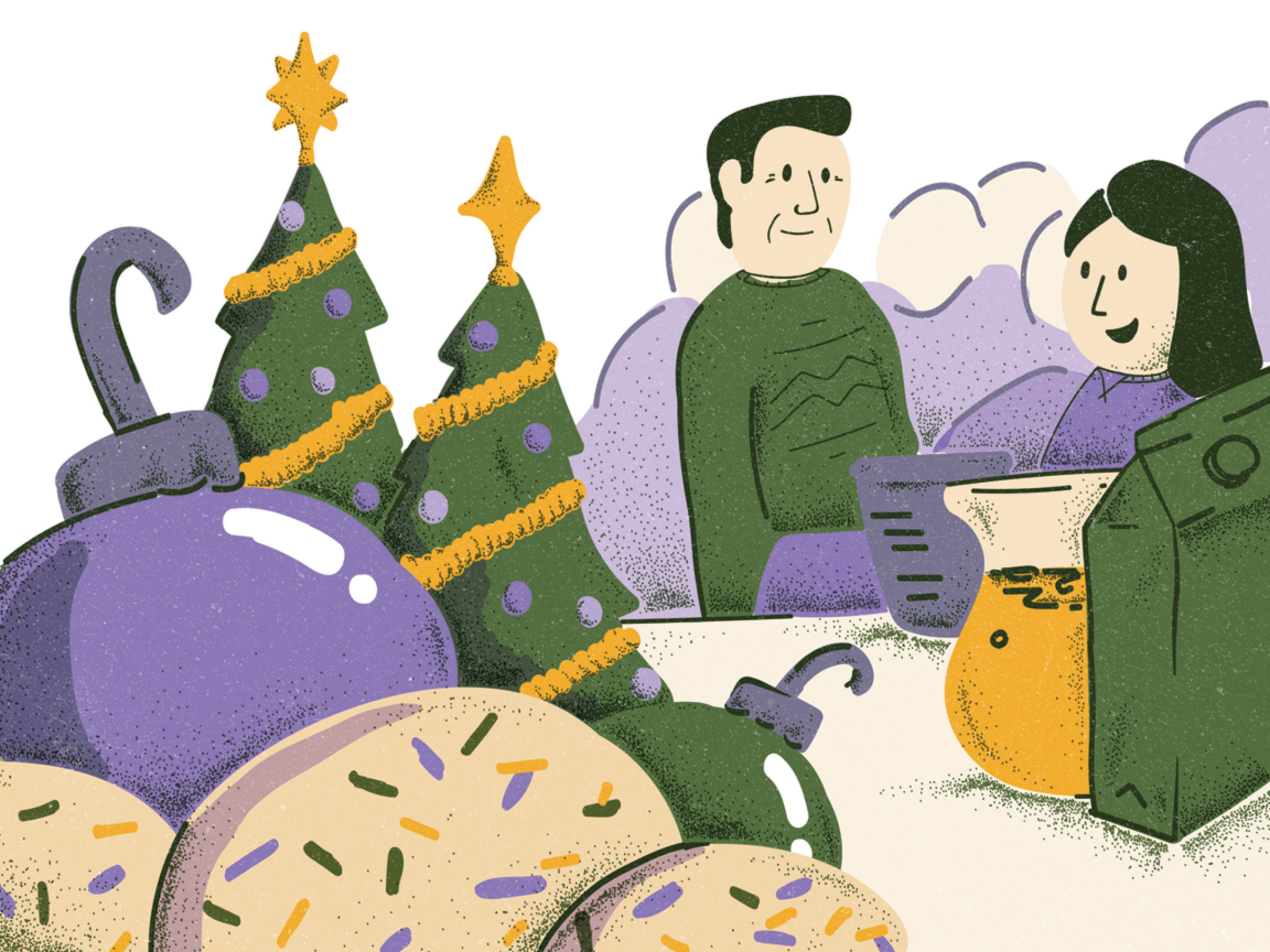 Forrest Garcia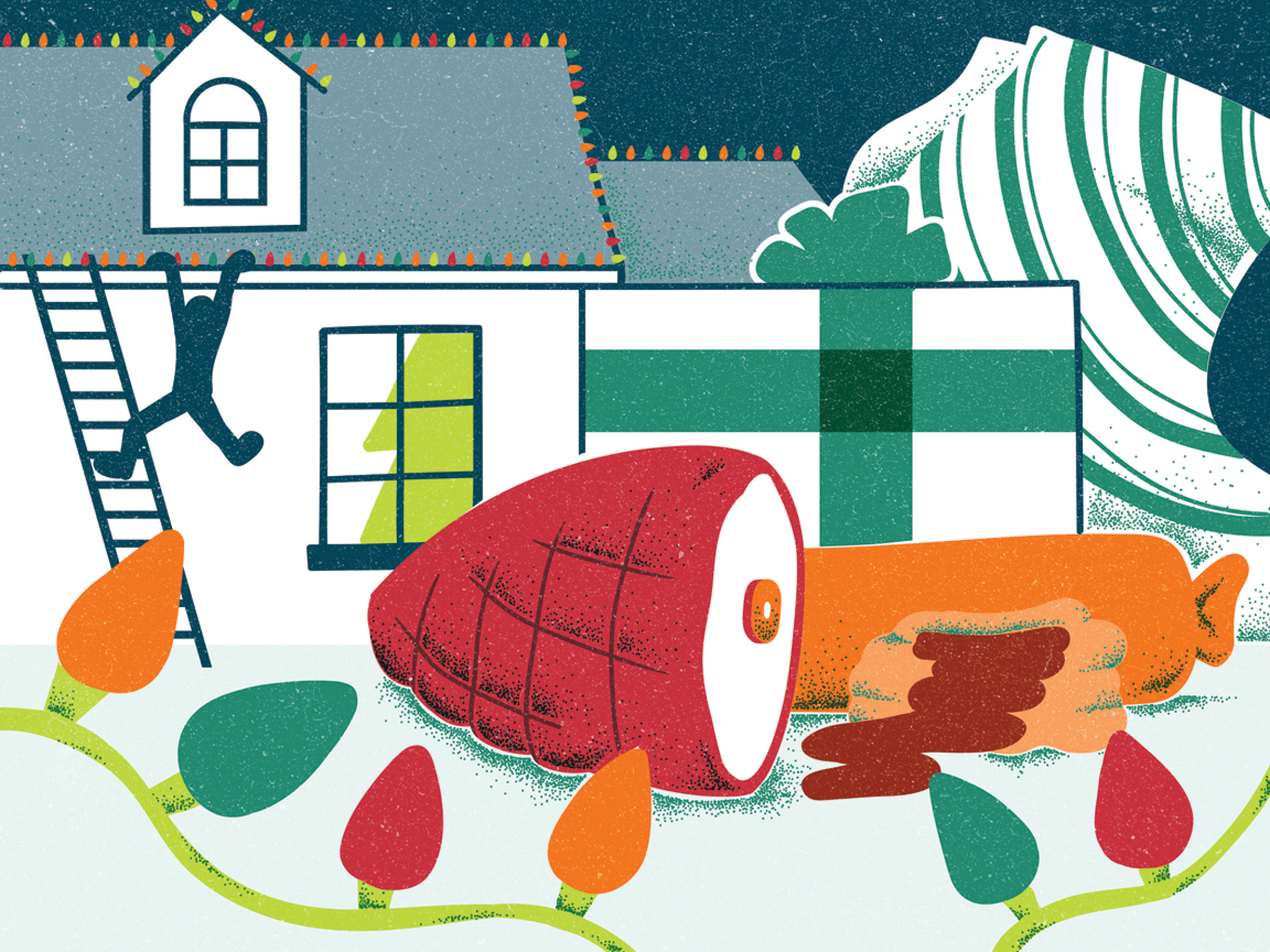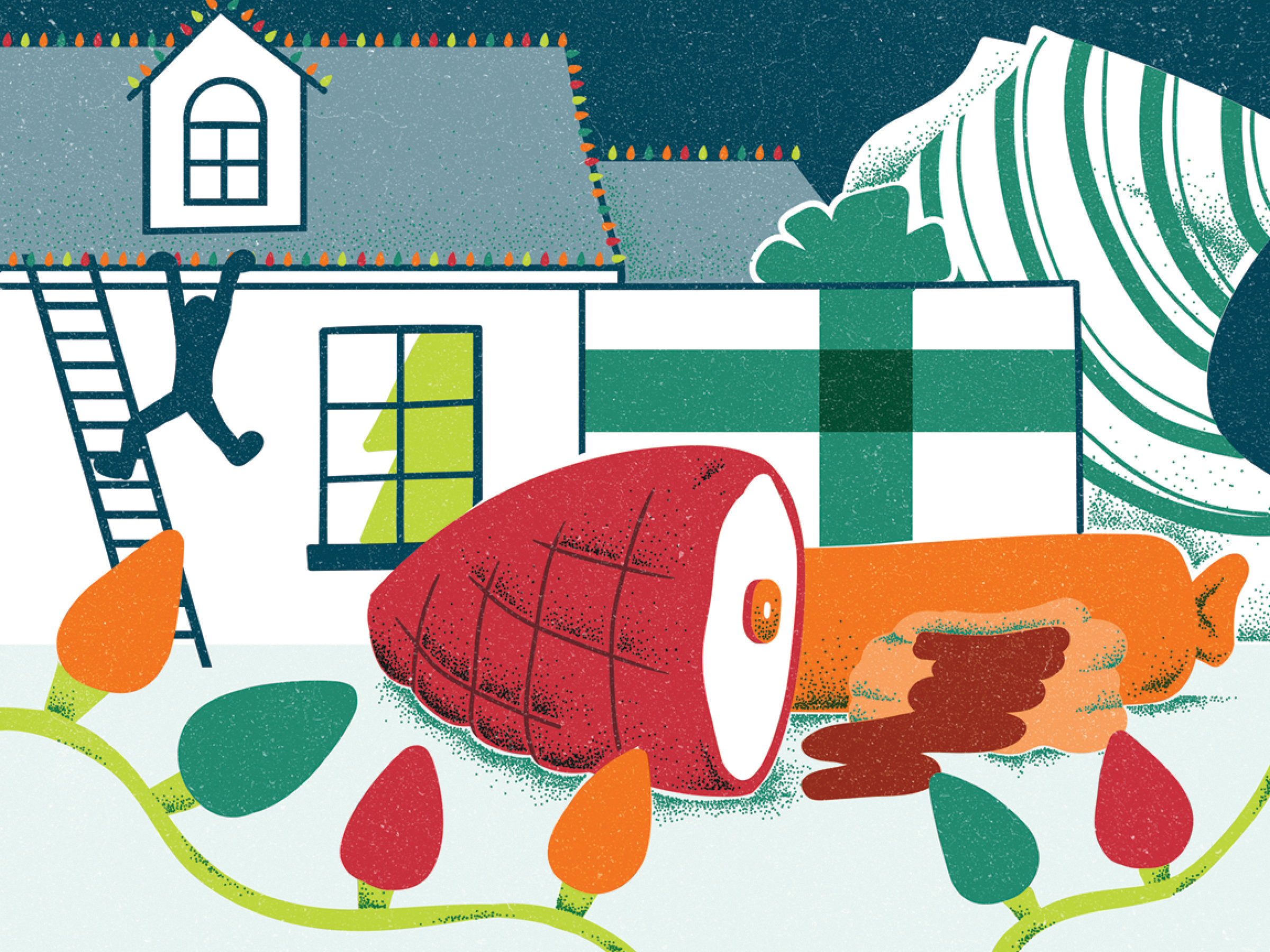 Anne Claire Houck